dÄHLer is taking the BMW X4 M40i to unknown levels of performance and aerodynamics

dÄHLer BMW X4 M40i equipped with tuner's "competition line" offers unmatched horsepower
The tuning company dÄHLer strikes again with an exclusive project, which this time is based on the X4 M40i powered by the N55-engine. The significant customization pushes further the innate capabilities of the SUV. Equipped with what the tuner is calling "dÄHLer competition line", this X4 M40i is more powerful and dynamic as it has ever been.
In short, the modifications included here feature performance increase to 424 HP, new coil-over suspension system and performance braking unit, stainless steel exhaust system as well as new wheels and tires combination. The experts also worked on optimizing the aerodynamics and the appearance of the X4.
SEE ALSO: What happens when you power your BMW M2 with M4's engine?
Starting with the main feature here, the performance step-up, it is available in three different levels. The first one fires up the in-line six-cylinder M TwinPowerTurbo with 2.979 cubic capacity to 395 HP (294 kW) and 772 Nm (570 ft-lb) of torque. The next level brings everything to 414 HP (309 kW) and 786 Nm (580 ft-lb) of maximum torque. At its best, the optimization (Level 3) brings the horses up to 424 HP (316 kW) and the impressive 800 Nm (590 ft-lb).
To be even more specific, the last numbers are more than enough to push the BMW X4 M40i from 0 to 100 in only 4.5 seconds. The top speed has been set to 270 km/h. The best part: the emissions remain unchanged from the original series.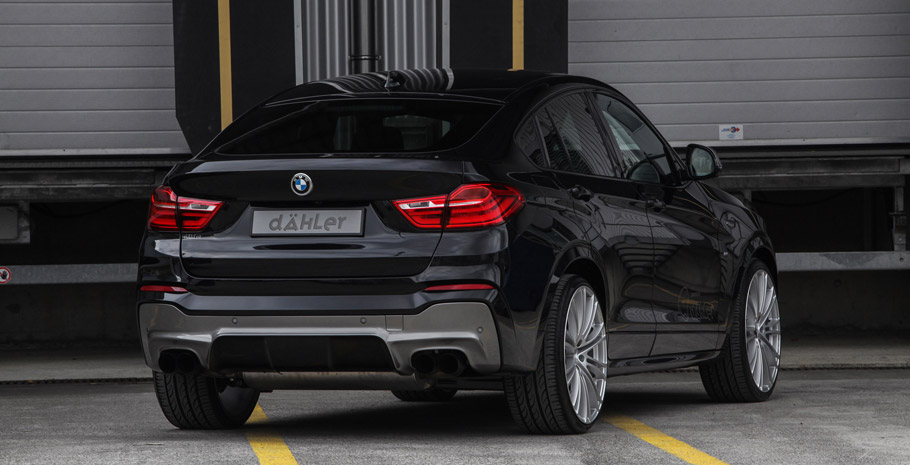 The added performance means that there is a great need for better handling. So, the tuner added new coil-over suspension system, which increases the agility of the X4. In addition, the sporty-tight suspension system lowers the X4 enough to make it look more aggressive. dÄHLer has also given this BMW 8-piston high performance braking system with brake discs sized 400 millimeter.
In terms of visuals, the appearance of the X4 M40i is updated with better aerodynamics due to the addition of new and more efficient front spoiler lip. The rear is enhanced with a new rear wing (optional) as well as stainless steel exhaust system.
At last but not least of importance is tuner's variant of wheel and tire combination. In other words this BMW X4 M40i runs on 20- or 21-inch (depending on the choice of the customer) dÄHLer CDC1 wheels fitted with respectfully big tires.
Diligence and expertise is all you need to make your car truly stand out.
Source: Dähler via Miranda Media