Loder1899 Ford Focus TDCI
Again a tuned up estate. This time it's from the guys at Loder1899 and the car in question is a Ford Focus, so that's unusual. And by unusual, we mean rare and exclusive. It's a fairly flexible program that makes use of an aerodynamic kit, a few suspension and wheels options plus a power enhancement for...the diesel range.
At the front we can find a "cupspoiler", on the sides of the focus, you can go for the carbon or non-carbon side skirts. At the back, an apron with the diffuser is supposed to keep the back end planted...because otherwise you might skid off the road while doing power slides on the way to the grocery store.
If required, the Focus can be lowered with a suspension kit by around 35 mm. There's a choice between a single or dual pipe exhaust system and a wheel spectrum that ranges from 17 to 20 inches.
The Loder1899 Ford Focus Estate we see here is a 2.0-liter TDCI that has 140 bhp as standard. By fitting the company's ECU upgrade, we can get 55 bhp more. So that's 195 bhp and 395 Nm of torque as soon as 2000 rpm. The top speed is now 220 km/h and the zero to 100 km/h time stands at 8.4 seconds as opposed to 8.9 seconds. The one thing that has remained pretty much the same ford this Ford Focus, is the economy- 5.0 l/100 km on the combined cycle.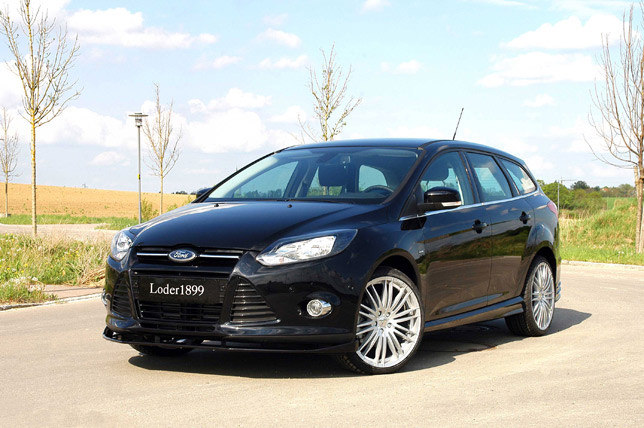 Source: Loder1899