2012 LSD Mercedes-Benz SLK R172
The Mercedes-Benz SLK is a roadster which was one of the firsts to have a foldable metal roof. Since then, the newest model R172 is the third generation of this exquisite vehicle. What LSD tuning company has done on it is basically to develop tailor-made door hinges for retrofitting, for more safety and precision when opening and closing the doors. In addition to that the LSD door hinges are equipped with the new Guided Roller System (GRS). Furthermore, in order to provide even more stability while the doors are being open, the swing arm is fixed with an additional locking mechanism. And this is why the LSD doors are so popular. Another highlight is that they come with a TÜV certificate, which proofs that they meet all safety standards.
What is more, the LSD doors come with advanced technology and highest quality standards. In fact, "Federal Motor Transport Authority" has approved that the LSD solution patented in Germany is as secure as an original fitted door. But what does this mean: in general, it means that during side impact, the passenger's safety is ensured through the LSD system. In addition, the door hinges are a perfect fit due to the three-dimensional adjustments and the fact that the LSD doors are installed at the original fixing points. And what happens when the doors begin to open: well, the original doors open with the LSD hinges first outwards and then gently glide upwards. The LSD hinges for the SLK come as a kit including complete set of cables, fitting components and accessories for 1799 Euro.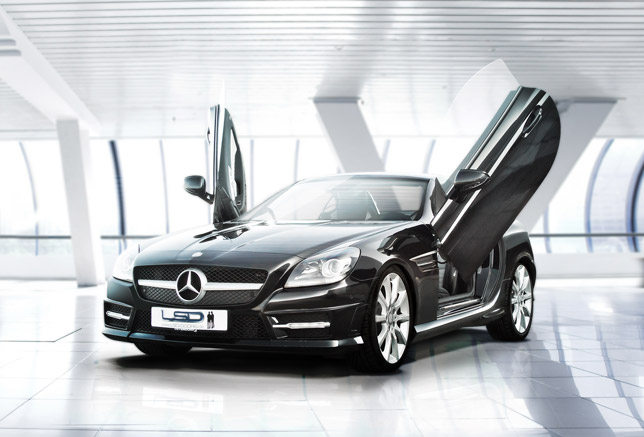 Source: LSD