Mercedes-Benz upgrades C-Class, E-Class and SLK Models
Mercedes-Benz is going to make some upgrade on its C- and E-Class adding six new models and a additional range of modifications. Furthermore, the Mercedes-Benz SLK Roadster is now available with an extended range of optional safety equipment.
Mostly the focus is being put on the modifications to the multimedia systems. Now there is available a fully integrated COMAND Online system with internet access, plus the cost-effective navigation solution Becker® MAP PILOT. They are all included in the upgrades of the new E-Class. Additionally, the central display and the instrument cluster are now silver grey for both C- and E-Class.
In details, the COMAND Online icludes the new Mercedes-Benz emergency call system "eCall". It will automatically alert the emergency services in the event of a serious accident.
Another upgrade is the new three apps, which will be available to COMAND Online customers. They will show news, share prices and help in finding a parking space.
C-Classs is turbocharged by a 1.6-litre four-cylinder petrol unit, which is the brands new entry- level engine for all body variants of the C-Class. More importantly, its fuel consumption now is as low as 5.8 l/100 km and has a CO2 figure of just 136 g/km. Hence the C 180 BlueEFFICIENCY is one of the first petrol models to be ranked in energy efficiency class B. The engine delivers the 115 kW (156 hp) with peak torque of 250 Nm (185 lb-ft) from just 1250 rpm all the way up to 4000 rpm.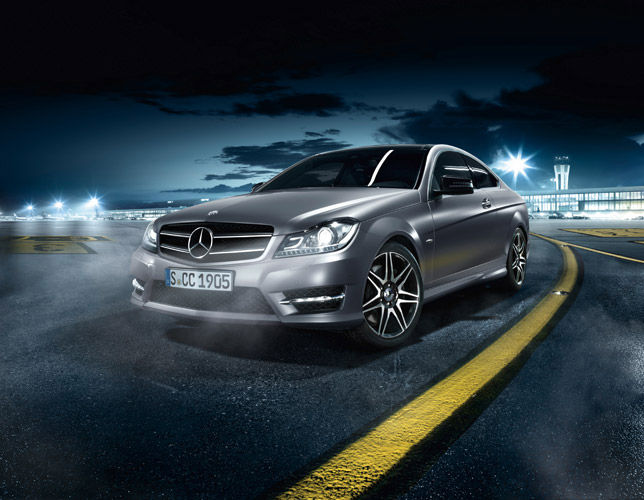 Next, the C 200 BlueEFFICIENCY delivers 135 kW (184 hp) and 270 Nm (200 lb-ft) from just 1800 rpm. This engine might be the perfect because of its fuel consumption and CO2 emissions of just 6.6 l/100 km and 154 g/km, respectively.
And if one wants more dynamic feel, than they are all about the new C-Class Coupé Sport models: C 250 Sport and C 250 CDI Sport with 150 kW (204 hp). What is specific here is that the performance specialists from AMG were involved in their development right from the start. Both models include the visually enhanced AMG Plus Sports package. In addition, due to the AMG sports suspension the car comes with sportier spring and damper tuning, specially adjusted camber and bearings, a sports braking system and more direct speed-sensitive sports steering, cornering and handling. At last there is also a double-declutching function at hand, thus making the veicle more agile and responsive.
The AMG Plus sports package now delivers even more style, thank to the AMG 7-twin-spoke light-alloy wheels, an AMG spoiler lip and sports seats in black ARTICO man-made leather/DINAMICA, red seat belts and red contrasting topstitching on the steering wheel, seats, door centre panels, door armrests, centre console and shift lever gaiter.
There are also new colours available: polar white, diamond silver, dolomite brown, tenorite grey, designo magno platinum.
Another innovation featured is the new ECO display included in the instrument cluster. This display supports drivers in their efforts to save fuel. In particular, the driving style is evaluated according to the categories of "moderate acceleration", "steady driving style" and "coasting".
Another highlight is Mercedes-Benz's improved connectivity. The COMAND Online display is now painted in silver grey in both day and night mode. The Audio 20 and COMAND Online systems make it easier for Mercedes drivers to undertake the initial pairing of their mobile telephone with the car via Bluetooth®.
The new Media Interface includes several advantages: improvements in data transmission and display speed, compatibility with MP3 players from both Apple and other manufacturers, digital audio playback from an iPod®/iPhone®.
And let us review what new goes around the E-Class. First to be mentioned is that is going to be more efficient and ser-friendly, as the brand promises. Undoubtedly the E 220 CDI BlueEFFICIENCY Edition is quite one of the most economical cars in its segment. This is due to its aerodynamics package, electric power steering (EPS), a longer final-drive ratio and size 205/55 R 16 tyres with low rolling resistance. More importantly, this model emits just 119 g CO2/km! And there shouldn't be any doubt of its performance, it is powered by an output of 125 kW (170 hp) mated to a 6-speed manual transmission.
Secondly, the new E 300 BlueTEC HYBRID is breaking records with its almost unbelievable efficiency of just of 4.2 l diesel/100 km and 109 g CO2/km emissions. In addition, its modular hybrid concept with lithium-ion battery does not impose any compromises on space and offers an impressive driving experience due to its start/stop, recuperation, boost effect, all-electric driving and a 'sailing' or coasting mode.
This model is available in both Saloon and Estate versions. Its performance ie also as astonishing as the figures it shows: thank to its 4-cylinder diesel engine, it can generate 150 kW (204 hp) of power and 500 Nm (370 lb-ft) of torque. The diesel engine combines with an electric motor rated at 20 kW and 250 Nm to produce a harmonious overall concept.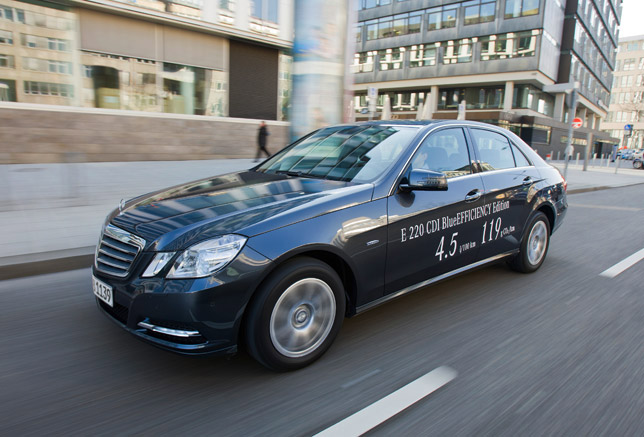 The E-Class now has new standard with 17-inch light-alloy wheels. In addition, "nappa leather" can be seen on the seats, centre armrest, doors and gathered door centre panels. The exterior includes as well AMG bodystyling elements for the front and rear aprons as well as the side sill panels. In terms of paint finishes, polar white replaces calcite white, while diamond silver takes over from indigolite blue.
Furthermore, the E-Class comes with innovations in terms of technologies included: there are larger displays, new functions and internet access. The Bluetooth® functions have also been extended. What comes as a standard here is the following: Audio 20 CD system with twin tuner and CD player, as well as an Aux-in socket and a USB port.
The COMAND Online multimedia system is also featured, and it is that one which offers internet access. To go further, there is also the Becker® MAP PILOT, which is a low-cost navigation function, suitable for retrofitting, and is available for the entry-level Audio 20 CD radio. What it does is that it includes integrated operation via the central controls, voice output via the vehicle's loudspeakers and display on the Audio 20 screen, a concealed location in the glove compartment and updating via an internet portal.
And what is being featured on one of the most popular Roadsters - the SLK? The answer is: added safety.
This model is the one which delivers unsurpassed driving exprence and fun and open-air enjoyment. The news around it is that is now being offered with significantly extended range of safety equipment: DISTRONIC PLUS, BAS PLUS and PRE-SAFE® Brake, the Blind Spot Assist and Lane Keeping Assist systems, for instance are now part of the new Driving Assistance package. The Intelligent Light System, which comes as an option, has now been enhanced and features Adaptive Highbeam Assist.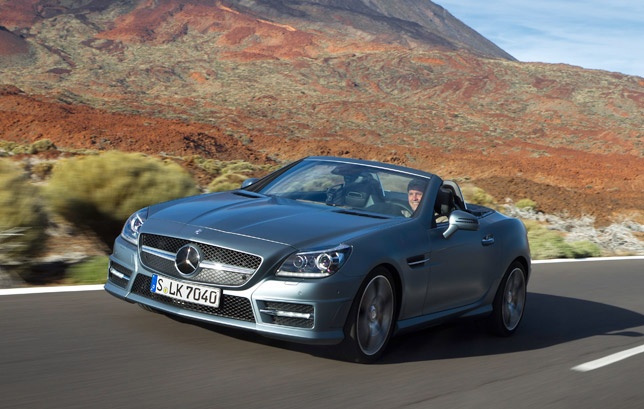 Mercedes-Benz SLK 250 CDI BlueEFFICIENCY is now comes with 6-speed manual transmission with sportily short shift travel as a standard.
The COMAND Online multimedia system is of course also featured here and offers several new and several improved functions: emergency call system Mercedes eCall, an optional travel guide, LINGUATRONIC voice control system, ECO display.
At last, the SLK will now come with new 17-inch light-alloy wheels in a sporty 10-spoke design.
Source: Mercedes-Benz