LUMMA CLR558 GT
LUMMA CLR 558 GT is the renowned tuner's latest Cayene-based conversion, which pleases the crowd with its extremely bold yet unobtrusive and highly striking exterior look. Of course, the cabin ambience and performance compartment of the LUMMA CLR 558 GT have also undergone some serious high-end upgrades, but the outer styling is just fascinating.
It benefits a forward-looking LUMMA bodykit that is consist of front spoiler, rear bumper, side skirts, sporty looking bonnet and rear spoiler. In addition to that, ultra-light yet sturdy carbon-made rear lip, rear diffuser and front spoiler, as well as a unique sports exhaust unit with three tailpipes create even more distinctive styling. Lowered around 40 millimetres by an electronic suspension lowering module, the skilfully revamped Cayene sits on sleek set of 22-inch alloy rims fitted with high-performance tires in the dimensions 295/30 at the front and 335/25 at the rear axle.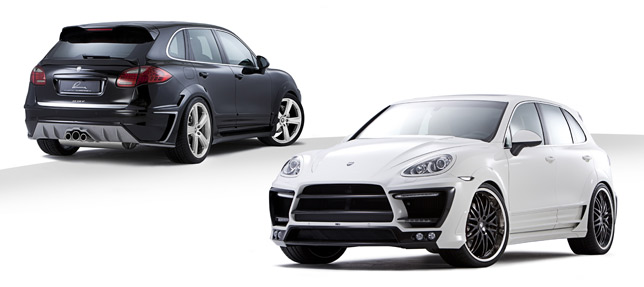 In the terms of power, the LUMMA CLR 558 GT packs a D-Box unit, boosting the output of its 6-cylinder diesel engine from 240 horsepower (176 kW) to 276 horsepower (203 kW) and 630 Newton metres of peak torque.