LUMMA Design has Prepared Stunning CLR R Conversion Kit for the Range Rover LWB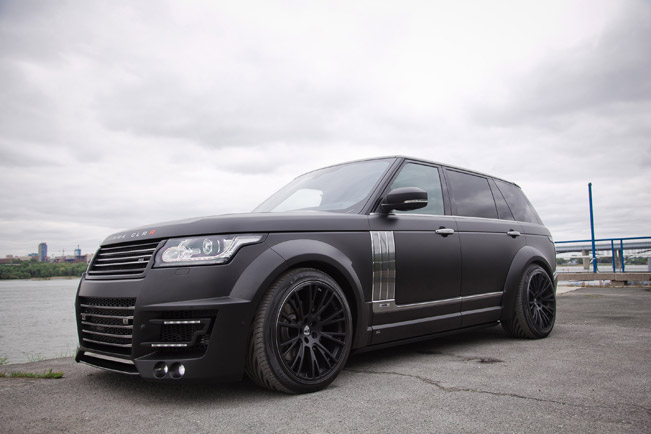 LUMMA Range Rover CLR R is unique not only because the tuners have done an exceptional work, but also because they are the first to offer a broad-build body kit for the Range Rover Long Wheelbase (LWB). At the front, the new look of the vehicle is characterized by a powerful front spoiler bumper with awe-inspiring air inlets. There are also the LUMMA-typical LED-double daytime running lights and double headlights just above the lane.
Furthermore, the designers have given this Range Rover a new front grille and a full-carbon sport look motor cowl with central air exhaust openings. At the rear we see the same design philosophy applied on the rear bumper which includes an integrated diffusor. The latter can be removed in just a few steps so that any trailer coupling present can be used.
Next, two trapezoid chrome end tube covers of the "Supersound" sports exhaust system can be seen to the right and left of the diffusor. They were mounted into the LUMMA Design rear apron cleanly and accurately.
At the back, LUMMA has also introduced new lamps, which now feature large white elements. As an available feature, the tuning team is offering a distinctive roof spoiler, which creates extra down-force at the rear axle of the heavy-weight.
This modified Range Rover also runs on new wheels, namely – the LUMMA CLR 22 rims in the size of 12x22 inch all around. They were coupled with Vredestein Ultrac Sessanta SUV-tyres in the size of 305/35R22.
LUMMA Range Rover CLR R in details:
Body kit:
Front spoiler bumper with LED double daytime running lights headlight and additional headlights
Front grille
Sport look motor cowl (full carbon) with central air inlet openings
Wheel-arch widening on the front and rear
Door attachments
Side sills
Rear bumper with removable rear diffusor
Design rear lamps, white
Roof spoiler (optional)
Exhaust:
LUMMA sport exhaust system "Supersound" with chrome end tube covers
Wheels:
LUMMA sport wheel rims CLR 22, size 10x22 inch
Vredestein tyres, size 305/35R22
Source: LUMMA Design