///M Initiation - BMW M4 Coupe Drifts at a Special Course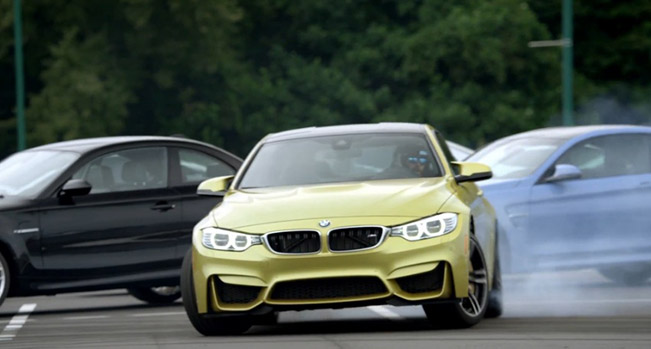 BMW has published a new spectacular promotional video featuring M4 Coupe and 52 other ///M models. The Yellow sports car drifts around a specially prepared course of fan-owned BMW M cars.
The manufacturer didn't name every single model taking part in the video, but we suggest that almost all available ///M models are covered including 4 race cars.
2014 BMW M4 Coupe is powered by a 3.0 liter TwinPower Turbo Inline six-cylinder – 431HP (317 kW) at 5,500RPM and 550Nm (406 lb-ft) at 1,850RPM. The engine is mated to a 6-speed manual gearbox as standard. 0-100 km/h in 4.3 seconds and a top speed of 250 km/h (155 mph) or an optional 280 km/h (174 mph). The acceleration is even better, when fitted with the optional 7-speed ///M DCT – 4.1 seconds to 100 km/h. The new M4 is able to cover 100 km with just 8.8 liters of fuel in the combined cycle with the manual transmission and 8.3 liter with the DCT. The BMW M4 Coupe will start with an MSRP of $65,125.
Recently, we found out that the new M4 is even more powerful than stated and it has at least 480HP (353 kW). So, don't mind why it drifts so easily through the impressive course.
The final is epic! Enjoy!
Source: BMW