Manhart BMW M3 E92 MH3 V8 R Biturbo Convertible Produces 655 Horsepower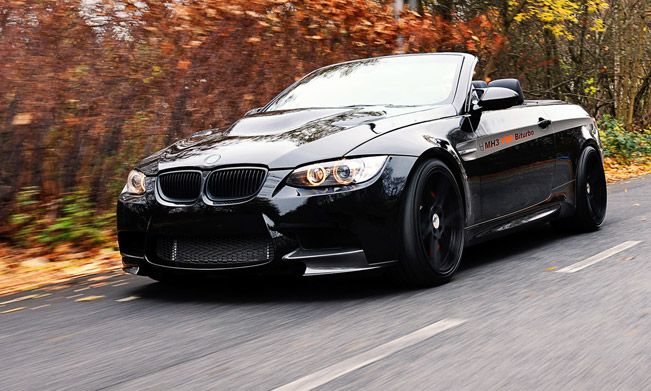 Manhart BMW M3 E92 MH3 V8 R Biturbo Convertible is the next exciting project that the specialists from Manhart Racing have prepared for us today. The performance professionals, based in Wuppertal, Germany, achieved the goal to create the quickest and most powerful convertible.
What helped them achieve this aim is the 4.4 litre V8 twin-turbo engine from the X6 M, fitted with a large carbon-fibre cover. Additionally, they developed software, which increased engine's performance up to the breath-taking 655 horsepower. What is more, the maximum torque was increased to the phenomenal 975 Nm (720 lb-ft).
The powerful engine of this BMW was mated to a six-speed sports automatic transmission from the X6 M. The latter was also fitted with a differential lock for optimal traction.
Of course, as the previous tuning, Manhart Racing has removed the electronic Vmax limiter, and now the German machine can reach a maximum top speed of 320 km/h. Furthermore, in order to get rid of the engine exhaust fumes, there were installed stainless steel downpipes, as well as an Akrapovic Evolution Titanium exhaust system with a 200 cpsi sports catalytic converter system and four 90 mm tail pipes.
Moreover, the MH3 V8 R Biturbo has been equipped with a robust MHR braking system with four-piston calliper brake pads and 396 mm brake discs (taken from the X6 M, with the discs being retrospectively drilled) on the front axle and 374 mm brake discs on the rear axle.
The transformation was continued on the outside too. MHR carbon-fibre elements were added here and they give the vehicle the look of a sports car: GTR air intakes, the mirror caps and the diffuser can be noted effortlessly. In addition, BMW performance carbon flaps have been installed and MHR decorative strips have been applied.
The BMW now races down the streets on an extra-light MHR Concave One Ultra-light forged wheels of impressive size: the 9x20 inch and 12x20 inch wheels fit perfectly with the high-performance tyres of size 255/30ZR20 up front and 305/25ZR20 at the back, respectively. Here is also important to mention the MHR suspension system (by KW V3) with in-house adjustment.
Source: Mahnart Racing