The noble Stealth Fighter: Manhart BMW M5 MH5 S Biturbo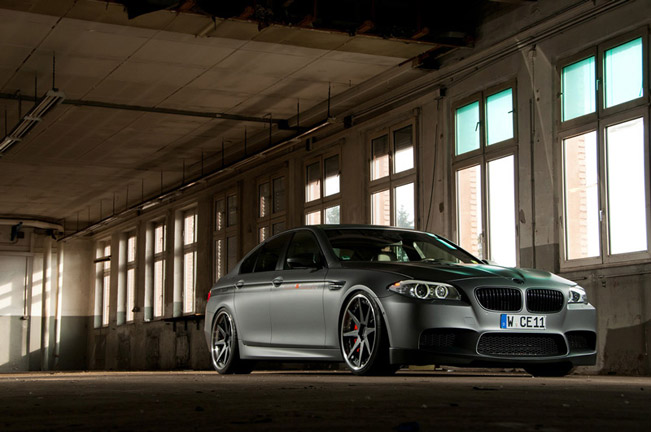 Manhart BMW M5 MH5 S Biturbo is a reworked version of the current BMW M5 by the performance specialists of Manhart Racing. They have equipped it with MH5 S Biturbo, which makes the vehicle visually and technically more impressive than ever before.
The goal was to turn the M5 into a lightweight racing car through reducing every single gram possible. What helped is the in-house aerodynamic components of the MH5 S Biturbo, which are made of ultra-light and high-strength carbon.
The front fascia of the BMW is decorated with an MHR front spoiler, whose rear counterpart is found in an MHR rear diffuser and rear spoiler as well. In addition, the engine hood was manufactured with integrated GTR air intake systems, again - made of carbon.
All in all, the whole body was eventually covered in a full grey-matt metallic wrapping with decorative MHR stripes. And this is the reason why the other name of the project is "The noble Stealth Fighter" – it definitely look very similar to the famous air machine.
The visual stance of the BMW is further enhanced by the MHR08 Deep Concave by ADV.1 wheels. They sit perfectly in terms of dimensions and design. In particular, the three-part rims of sizes 9.5 x 21 inches were added to the front and the 10.5 x 21 inches are added to the rear. They were covered by high-performance tires of the dimensions 265/30ZR21 and 305/25ZR21, respectively.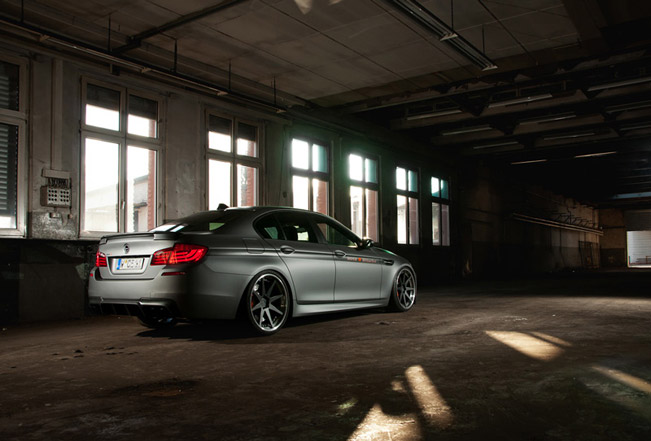 An installation of the fully adjustable MHR by KW Clubsport chassis frame ensures that all wheels constantly have the optimal road contact. The chassis frame in fact can be adjusted additionlly and separately in compression. Moreover, Manhart also created performance-optimized racing drive-shaft support systems.
The software and the periphery of the 4.4 litre Biturbo driving mechanism were additionally reworked. The result is the impressive number of 646 horsepower (475 kW) and the maximum torque of 773 Nm (570 lb-ft). Thanks to this and to the removal of the electronic speed retarder, the vehicle now has a top speed of 316 km/h.
MHR Carbon Air Intake System added plays a crucial role as well. It boosts performance as well as gives the engine compartment an extremely enticing outward appearance. The MHR sporty end-silencer made of high-grade steel with two 90 millimetre twin tail pipes right and left respectively, gives the Biturbo-V8 a catchy and an exceedingly impressive "voice".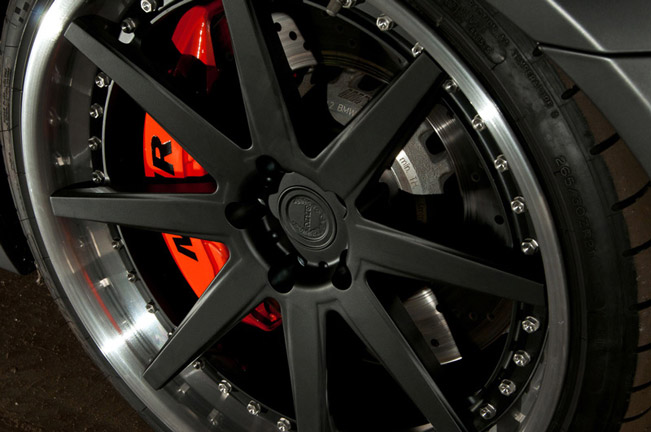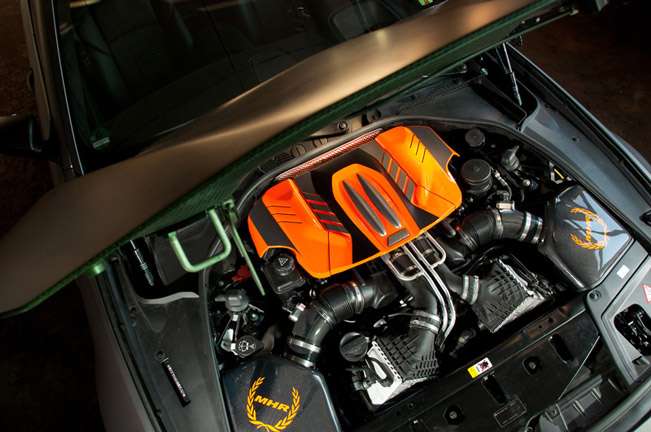 Source: Manhart Racing