2013 Manhart BMW M6 Delivers Extra Power And Sound [VIDEO]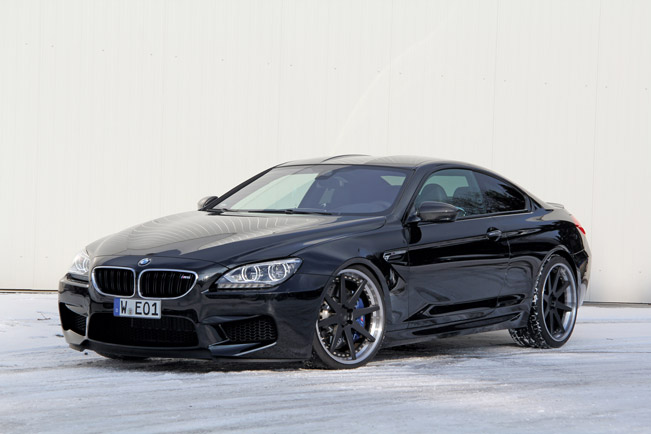 Manhart Racing is specialized in tuning BMWs and now the company is releasing their program for the new M6. Thanks to this the Bavarian high-performance trio of M6 Coupé (F13), M6 Cabriolet (F12) and M6 Gran Coupé (F06) can be now enhanced through lowering, different wheel and tire combinations as well as performance boosting in four stages.
First of all in terms of lowering, there is a choice between a classical coilover suspension or coilover springs. The latter keep the electronic damper control (EDC) and facilitate the retention of the functionality of all electronic control systems.
In addition, the wheel is filled up by the three-part MHR08 Track Spec by ADV.1 rims of the dimensions 9.5x21 and 10.5x21 inches for the front and the rear respectively. There is some sort of sophistication to the wheels which is present thanks to the black rim stars in combination with the brush-finished stainless steel beds.
More importantly, Manhart Racing is offering four different stages of expansion in terms of performance boosting. The first stage "Stage 1" achieves approximately 620 hp (456 kW) and a maximum torque of 720 Nm (531 lb-ft) through software optimization.
Next, the second stage "Stage 2" is also based on software optimization. However, it adds downpipes that deliver more efficient performance capacity - 640 hp (470 kW) and 760 Nm (560 lb-ft).
In addition, the third stage "Stage 3" gives to the BMW axle back Sport end-silencer by MHR and a Carbon Air Intake System. In this stage, the performance is measured at 670 hp (492 kW) and 790 Nm (583 lb-ft).
At last, in "Stage 4" the M6 is able to generate more than 700 hp (515 kW) and over 860 Nm (635 lb-ft) with an additional MHR performance box.
Furthermore, the valve control of the exhaust system is mated to a rotary speed thus unleashing the complete sound of the eight cylinders from a rotary speed of about 2,000 rpm. The valve remains constantly opened when the "M" key is activated.
At last, the four polished stainless steel end-pipes are equipped with the MHR logo and are obtainable with 90 or 100 millimeters diameter. In the video below you can take a look over this outstanding BMW and also hear the amazing sound that it produces.
Video Source: YouTube
Source: Manhart Racing