Mass production officially launched at the new Hyundai plant in the Czech Republic
Mass production was officially launched in the first European Hyundai automotive plant – Hyundai Motor Manufacturing Czech in Nosovice, the Czech Republic. "The Hyundai plant is such a large investment and important production influence on the GDP and will amount to around 1 percent a year and trade surplus will grow by around CZK 50 billion a year after the plant switches to full capacity," said Martin Riman, Minister of Industry and Trade of the Czech Republic. He added: "The Czech Republic will then take over position of a European leader from Slovakia in terms of the number of cars produced - almost 130 units per 1,000 inhabitants."
Governor Evzen Tosenovsky mentioned the fact that the first talks about a location for the Hyundai – Kia plant were held six years ago; a decision was made then to go to Slovakia with the Kia plant but Hyundai followed three years later. "The most difficult part of the job for the regional government was the buy-out of the land from private owners," he said. "I hope it is just history now, as well as a difficult period of construction for the plant and annoying the citizens with noise and dust. We are standing at the beginning of a new era – a good neighbourhood of Hyundai and local communities."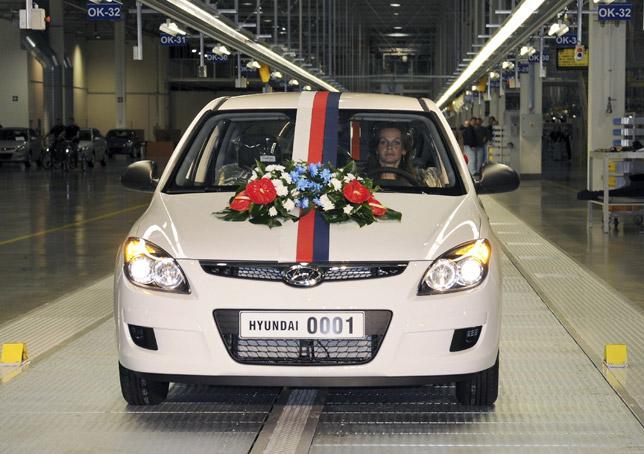 "Since the 1 November, when production was launched in our plant, Hyundai has become officially the European automobile brand. And although it will not be easy in the tough European climate, I believe that our cars will soon build up a strong position and the sales will grow rapidly," said Kim Eok-Jo, President of HMMC. President Kim also touched on the current crisis of the automotive industry briefly: "We are not afraid as 65 per cent of Hyundai production is in segments of small and medium sized cars where the global demand is increasing fast. We have an advantage with modern technologies, high quality and with the new HMMC plant we can deliver a much faster and more flexible service to our European customers."
The i30 is the first vehicle to be built in the new plant and will take over the supply of i30s to the European market. The i30 was previously exported from the factory in Seoul.