Mazda MX-5 Venture Edition
We all know the Mazda MX-5, right? It's that front-engined, RWD, simple, fun handling roadster that has been around for years. The latest attempt of the Mazda company to refresh it comes in the form of the MX-5 "Venture Edition" with new interior trims and exterior finishes and more technology and luxury equipment.
The new Venture picks up where the SE and Sport Tech MX-5 end. You can either go for the 1.8 MZR Soft-top (SE) or the 2.0 MZR Roadster Coupe (Sport Tech). Exclusive highlights from the outside include light gun metal 17-inch alloy wheels, front fog lights and a chrome front grille. But we don't really have to notice these things to know it is a Venture edition. There are badges for that. Three body colors will be - the popular Metropolitan Grey Mica and two exclusive Radiant Ebony Mica and Crystal White finishes.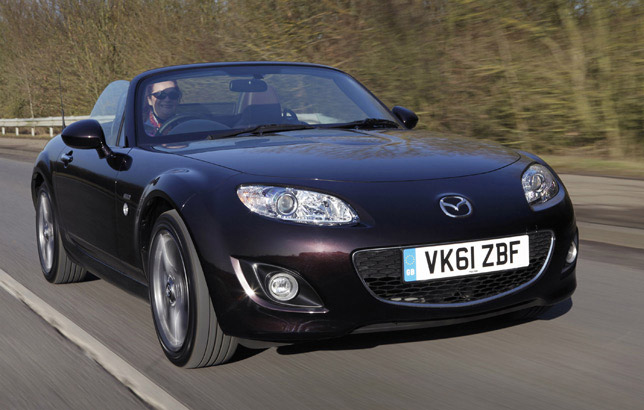 Inside a leather feast unfolds itself as you enter. The steering wheel, seats and the leather lever are all wrapped in Havana Brown leather. A matching door trim on the side and piano black dashboard accents at the front appease you. Technology includes climate control air-conditioning, cruise control, Dynamic Stability Control, TCS and airbags, lots of them. Also, for the first time ever on an MX-5, a Satellite navigation. And it is not an antique one as well. It has a 5.8-inch touch screen monitor, 4GB SD card based map (45 countries), live services, iPod and Bluetooth® connectivity.
Most importantly it still remains a proper roadster with a perfectly balanced handling and a 1.8 MZR, 126 ps (SE) engine or a 2.0 MZR, 160 ps (Sport Tech) one. Manual transmissions come with either five or six speeds respectively. Going up to 60 mph will take you 9.9 seconds in the 1.8 soft-top, while for that same speed the time mark of the 2.0 Roadster Coupe is 7.9. Fun however, doesn't come only in a straight line. The Mazda is fitted with a Limited Slip Differential for that extra sideways lunatism.
Source: Mazda