Mazda6 To Enter 25 Hours Of Thunderhill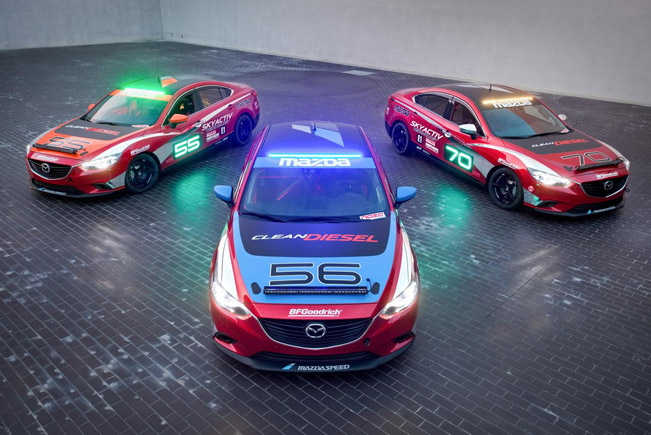 Mazda enters three modified-for-racing 2014 Mazda6s in the longest endurance race in America - the National Auto Sport Association (NASA)'s US Air Force 25 Hours of Thunderhill. The event will take place on 7th and 8th of December at Thunderhill Raceway Park in Willows, California.
At the race, the visitors will see how two teams of Mazda dealers are set against one team of MNAO employees, along with nearly 80 other teams. All of the three teams will race brand-new 2014 Mazda6 SKYACTIV-D Clean Diesel racecars.
Of course the vehicles are based on the production models but have been modified for the competition and are ready to enter in NASA's E1 class. To be more precise, the cars remain nearly stock, but the interiors were removed to accommodate an Anthony Woodford Racing roll-cage, a Sparco Pro-ADV racing seat, Safecraft racing seatbelts and plumbed-in fire systems and AIM MXL Pista dashes and data acquisition.
Under the hood, the cars hide the SKYACTIV-D diesel engine mated to a six-speed manual SKYACTIV-MT transmission. The suspension is custom-designed by ProParts USA and utilizes Koni dampers and Hypercoil springs as well as custom ProParts rear stabilizer bars.
Connecting all this to the track are 17x8" Enkei Kojin wheels wrapped in 245/40R-17 BFGoodrich g-Force R1 tires. The force of the Mazda6s is slowed down via four-piston STR-40 calipers and AeroRotors, delivered by the experts at StopTech.
Next, the drivers representing the Dealers in cars 55 and 56 will be Richard Fisher, Joel Weinberger, Taz Harvey, Chris Wilson, John Finger and Taylor Hacquard. The Factory Guys will be in car 70, represented by Randy Miller, Ken Saward, Dave Coleman, Nathan Edmonds, Mike Allen and Jason Meise.
The Mazda6s will race alongside 70 other cars competing in six different classes. In addition at the contest there will be also 13 other Mazdas.
Source: Mazda