McLaren 625C Intended Only for the Asian Market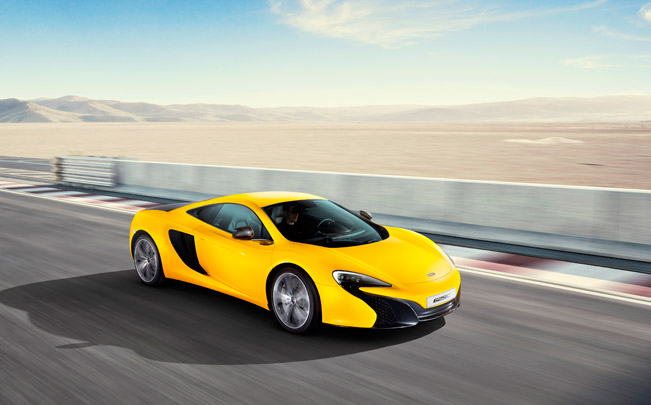 McLaren 625C is company's first regionally tailored model which aims to conquer the Asian market. The new car promises the greatest of refinement of any McLaren model up to date. This of course will come in combination with the enhanced driving dynamics. The 625C model is being launched in response to demand from customers in the Asian region. The vehicle shares the same visuals as the 650S, but has somewhat more focus on day-to-day usability and comfort.
The ProActive Chassis Control and the suspension hardware have been refined, thus delivering optimized driving dynamics and ride quality. The name of the 625C refers to the power output – the 3.8-litre twin turbo V8 powerplant, which produces 625 hp (460 kW), while the 'C', stands for 'Club'. In fact, the McLaren 625C has several technical benefits when compared to the 650S.
First, enhancements have been made to driveability and efficiency with engine torque of 610Nm (450 lb-ft). Second, the acceleration time from zero to 100 km/h (62 mph) is only just 3.1 seconds, while to 200 km/h (124 mph) - 8.8 seconds (for the Coupé). The maximum speed mirrors that of the 650S, which is 333 km/h (207mph) (329 km/h (204 mph) for Spider). The CO2 emissions have been rated at 275 g/km.
The refined ride is ensured by the updated dampers and revised mechanical balance. In addition, the less stiff spring rate at the rear ensures a sharp response with no loss in ride comfort through the ProActive Chassis Control system in 'Normal' mode. There is also no compromise regarding handling or performance in 'Sport' and 'Track' modes.
McLaren 625C in Coupe and Spider bodystyles are currently being launched in Hong Kong.
McLaren 625C Coupe Technical Specification:
| | | | | |
| --- | --- | --- | --- | --- |
| Drivetrain Layout | Longitudinal Mid-Engine, RWD | | Track, F/R (mm) | 1656 / 1583 |
| Engine Configuration | V8 Twin Turbo / 3799cc | | Length (mm) | 4512 |
| EnginePS / rpm | 625 / 7250 | | Width (mm) | 2093 |
| Torque Nm / rpm | 610 / 3000-7000 | | Height (mm) | 1199 |
| Transmission | 7 Speed SSG | | Dry Weight (kg / lbs) | 1336 / 2945 |
| Body Structure | Carbon Fibre MonoCell withAluminium Front and Rear Frames | | Active Aerodynamics | McLaren Airbrake |
| Wheelbase (mm) | 2670 | | Suspension | ProActive Chassis Control |
| Brakes | Cast Iron Discs with Forged Aluminium Hubs (F 370mm/R 350mm) | | ProActive Chassis Control modes | Normal / Sport / Track |
| Tyres (F/R) | Pirelli P Zero™235/35 R19/Pirelli P Zero™305/30 R20 | | Powertrain Modes | Winter / Normal / Sport / Track |
| Wheel Sizes (F/R) | 19" x 8.5"J / 20" x 11" J | | | |
Performance Data:
| | | |
| --- | --- | --- |
| Efficiency | CO2 | 275 g/km |
| | Fuel consumption (combined) | 24.2 mpg |
| | Power to weight - with lightweight options | 480PS (473 bhp) /tonne |
| | CO2/power | 0.45 g/km per PS |
| | | |
| Speed | Maximum speed | 333 km/h (207 mph) |
| | | |
| Acceleration | 0-100 kph (62 mph) | 3.1 s |
| | 0-200 kph (124 mph) | 8.8 s |
| | 0-300 kph (186 mph) | 26.7 s |
| | 0-400m / ¼ mile | 10.6s @136 mph |
McLaren 625C Spider Technical Specification:
| | | | | |
| --- | --- | --- | --- | --- |
| Drivetrain Layout | Longitudinal Mid-Engine, RWD | | Track, F/R (mm) | 1656 / 1583 |
| Engine Configuration | V8 Twin Turbo / 3799cc | | Length (mm) | 4512 |
| EnginePS / rpm | 625 / 7250 | | Width (mm) | 2093 |
| Torque Nm / rpm | 610 / 3000-7000 | | Height (mm) | 1199 |
| Transmission | 7 Speed SSG | | Dry Weight (kg / lbs) | 1376 / 3034 |
| Body Structure | Carbon Fibre MonoCell withAluminium Front and Rear Frames | | Active Aerodynamics | McLaren Airbrake |
| Wheelbase (mm) | 2670 | | Suspension | ProActive Chassis Control |
| Brakes | Cast Iron Discs with Forged Aluminium Hubs (F 370mm/R 350mm) | | ProActive Chassis Control modes | Normal / Sport / Track |
| Tyres (F/R) | Pirelli P Zero™235/35 R19/Pirelli P Zero™305/30 R20 | | Powertrain Modes | Winter / Normal / Sport / Track |
| Wheel Sizes (F/R) | 19" x 8.5"J / 20" x 11" J | | | |
Performance Data:
| | | |
| --- | --- | --- |
| Efficiency | CO2 | 275 g/km |
| | Fuel consumption (combined) | 24.2 mpg |
| | Power to weight - with lightweight options | 466 PS (459 bhp) /tonne |
| | CO2/power | 0.44 g/km per PS |
| | | |
| Speed | Maximum speed | 329 km/h (204 mph) |
| | | |
| Acceleration | 0-100 kph (62 mph) | 3.1 s |
| | 0-200 kph (124 mph) | 9.0 s |
| | 0-300 kph (186 mph) | 27.7 s |
| | 0-400m / ¼ mile | 10.8s @134 mph |
Source: McLaren