Mercedes-AMG strikes again: 2018 GT R revealed!

So, what do we have here? A premium automobile brand, a premium tuner brand and a street-legal masterpiece: definitely the new AMG GT R is one hell-of-a vehicle. Distinctive and beautiful, the car has a lot to show. And without any further stalling, let's see what we are dealing with.
Exterior design
We all know that this is a Mercedes-Benz vehicle and we all know how stylish these cars are. Of course, this one is no exception: we have a low-slung front section, forward-inclined radiator grille that somehow makes a "shark-nose" expression. In fact, the front fascia proudly demonstrates a new jet-wing design that enhances the feeling of massiveness and width.
Spending countless hours in a wind tunnel, the new Mercedes-AMG comes with sleek and aerodynamic profile with elegant lines and overall aggressive appearance.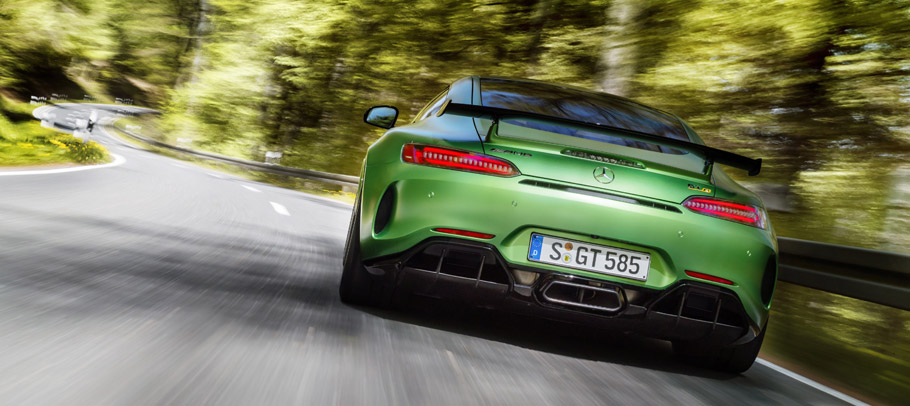 Furthermore, the front fenders not only contribute to the overall beautiful expression, but also reduce weight: made of light carbon-fiber, these bad boys add a total of 1.8 inches to the width. The side view also benefits from new AMG Performance forged wheels in matte black. Of course, we do see the brake calipers, painted in yellow. Apparently, the sporty spirit is present and within the side view. And provided that the vehicle comes with high-grade carbon roof, we tend to believe that this is by far the most sporty-oriented Mercedes-AMG machine created so far.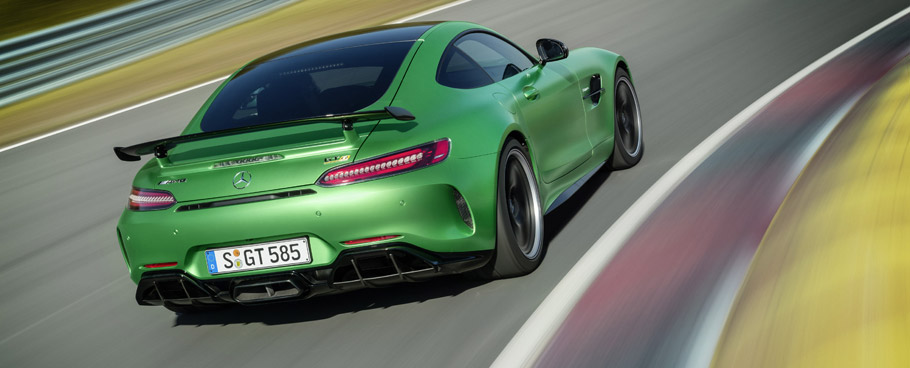 And last, but not least, the rear end also has some stuff to show: new aluminum side walls that widen the rear with a total of 2.2 inches, which also improves the airflow and leaves space for additional dissipation of the heat generated by the rear silencer. So, what we do have as a result: aerodynamic shape that increases the surface contact and an enhanced drivability blended with striking beautiful and sporty design. Cool, right?
Interior styling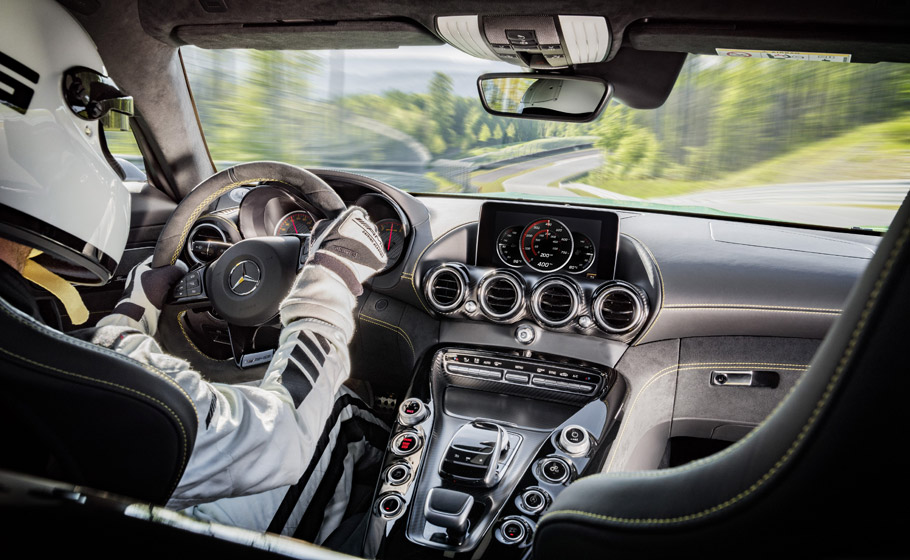 The cabin is also heavily inspired by the world of motorsport. Buyers will be pleased to know that the car is geared with AMG Performance Seats with Nappa leather and DINAMICA microfiber components. Also, the wide-looking dashboard looks functional and somehow reminds of an aviation design theme. There are four central spotlight-style vents and concave-shaped door paneling with dynamic central console. Surely the AMG GT-R offers some neat sporty experience, thanks to the driver-focused cabin and all of these small sporty details that make a huge difference.
Drivetrain and performance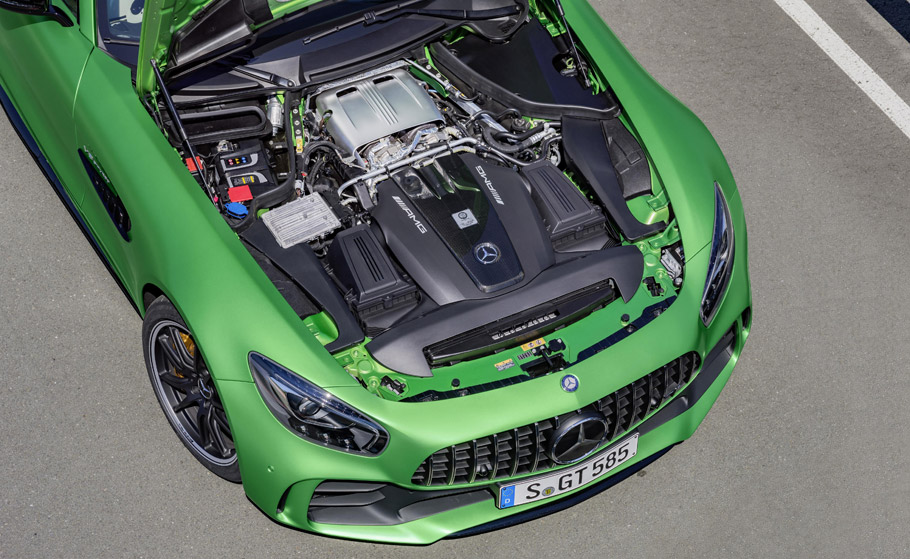 Led by the idea of less is more, the AMG team managed to reduce the overall weight and therefore enhance the agility and versatility of the vehicle. Mercedes-AMG engineers used numerous aluminum alloy components for the body and chassis, some steel for the trunk and magnesium for the front deck.
The suspension system was also fine-tuned and systematically designed for racetrack use. Wishbones, steering kunckles and hub carriers on the front and rear axle were created entirely of forged aluminum, while the high camber and the toe-in stability contributes in high cornering speeds and at the same time offers optimum feel for the road when driving with full force.
Also present is the high-performance composite brake system that ensures precise deceleration and high fade-resistance with internally ventilated and perforated 15.4-inch diameter brake discs.
SEE ALSO: If this Mercedes-AMG GT S could only happen…
And most importantly: what does the engine offer? Well, the GT R comes with a handcrafted AMG power unit with 4.0 liters of fuel capacity, offering the titanic 577hp (430kW) and peak torque of 516 lb-ft between 1,900 and 5,500 rpm.
The engine has undergone some special tweaks and fine-tunes and comes with modified compressor machining, smaller wastegate aneroid capsule and sharpened engine mapping. The V8 Biturbo engine also features twin-scroll turbochargers, mounted on the outside of the cylinder banks. This contributes to a compact engine design, better response and better CO2 emission rates.
This unit is paired to a seven-speed dual-clutch gearbox with modified hardware and software for longer ratio for the first gear and longer ratio for the final ones.
So, do you like it? We are more than excited about the new Mercedes-AMG creation. Write down what you think in the comment section!
Source: Mercedes-AMG