Mercedes-Benz E 300 BlueTEC Hybrid - Pricing Announced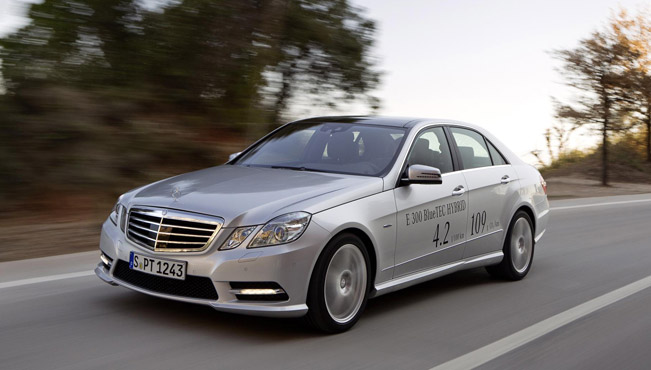 The most efficient Mercedes-Benz ever produced is the Mercedes-Benz E 300 BlueTEC Hybrid. Everyone who is interested in luxury cars which are at the same time efficient will appreciate the news that the brand has just announced the prices and specifications of the hybrid vehicle
The standard equipment here features 17-inch alloy wheels. However, if one still wants to achieve maximum efficiency, there are the 16-inch wheels, which can deliver the lowest possible CO2 and economy figures. The interior includes leather upholstery, Becker Map Pilot Navigation and LED daytime running lights.
More importantly, the E 300 BlueTEC Hybrid combines the powerful but highly efficient 2,143cc, four-cylinder diesel engine, which develops 204 hp (150 kW) and 500 Nm (370 lb-ft) of torque, and the 20 kW electric motor. They are both mounted within the 7G-Tronic Plus automatic transmission powered by a 19kW Lithium-ion battery.
The effect is that the E 300 BlueTEC Hybrid accelerates from rest to 62 mph in 7.5-seconds before reaching a maximum speed of 150 mph. When fitted with the 16-inch wheels, the vehicle is capable of returning 65.7 mpg on the combined cycle while emitting as little as 109 g/km of CO2.
The Hybrid system is packaged within the vehicle. The electric motor, for example, is mounted within the 7G-TRONIC PLUS automatic transmission. The gearbox substitutes a torque converter for a wet clutch system, so that it allows the internal combustion engine to be disengaged entirely via the clutch. In addition it also allows the electric-only drive to be maintained for short periods, while at the same time it boosts economy.
The E 300 BlueTEC Hybrid Saloon has a starting price beginning from £39 645, while the price of the Estate variant starts at £41 435. The deliveries of the new E 300 BlueTEC Hybrid are set to start in November this year.
Source: Mercedes-Benz