Mercedes-Benz Introduces the Mobile Home Zetros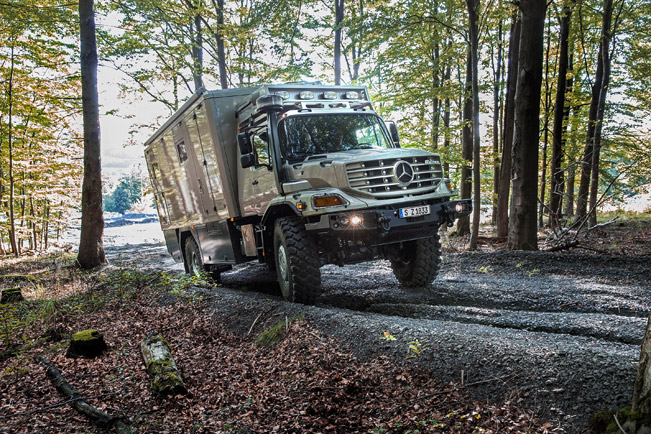 Mercedes-Benz Zetros is not the typical vehicle one might see rolling on the streets. It definitely has the rough military exterior but actually hides a gentle soul inside, because it is a high-end mobile home. The Zetros stands for excellent traction and ruggedness, maximum stability and technical brilliance as well as customized luxury. These components create a super-home on wheels, which will make its debut at the Caravan Show in Düsseldorf.
This Mercedes-Benz has extreme off-road characteristics and at the same time adds the load-carrying capacity of a heavy-duty truck. It features permanent all-wheel drive, high ground clearance, impressive 16.00 R 20 off-road tyres, three differential locks and a two-stage transfer case.
The Zetros is powered by a six-cylinder in-line engine with 7.2 l of displacement. It produces 326 hp (240 kW), includes BlueTec technology and is coupled with a six-speed automatic transmission.
Furthermore, the cab and body of the mobile home are connected by a passage. The cab is delivered by Hartmann Spezialkarosserien. The body has a length of 5.6 m and a width of 2.4 m, and is painted in silver. The walls, roof and floor are made of one-piece, galvanised and plastic-coated panels. The maximum wall thickness is 100 mm.
Inside is the living area of the car. The interior has been made by Hünerkopf and it seems extremely comfortable. There is L-shaped seating arrangement with kitchenette, bathroom with washroom and toilet plus a separate shower cubicle. A roomy double bed rounds off the accommodation at the rear.
The high-grade furnishings are trimmed with a real-wood veneer in bird's-eye maple. Both the floor and the kitchen worktop are finished in lightweight natural stone. The large sofa is wrapped in breathable genuine leather.
If one considers buying this mobile home, then they must be assured that they will stay connected. The vehicle features high-grade entertainment system with automatic satellite dish and internet connection. Moreover, the living and sleeping areas are equipped with an LED screen, while the acoustic experience is delivered by a Bose sound system.
The Zetros also includes two tanks. One holds 300 l of fresh water while the other - 600 l of diesel. There is also included a combination of lithium-ion batteries and a solar energy system as well as a power generator. Other on-board equipment includes two independently operated, diesel-powered hot-water heaters and an air conditioner.
Source: Mercedes-Benz