Mercedes-Benz S 500 Plug-in Hybrid Wins Environmental Certificate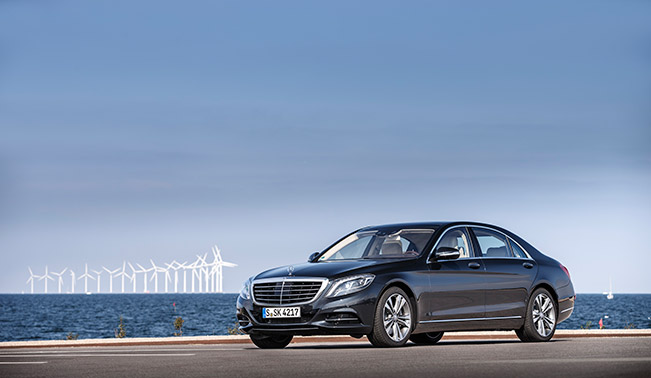 The Mercedes-Benz Plug-in hybrids are said to be able to give customers a unique experience while driving around the city in all-electric mode or cruising on a long journey somewhere else and taking advantage of the combustion engine's range. The significant environmental computability of The Mercedes-Benz S 500 Plug-in Hybrid makes the car a representation of a balanced pleasure of driving and a high-quality performance. Now, this high environmental compatibility has been confirmed by the inspectors and specialists at the TÜV Süd technical inspection authority. As a result, Mercedes-Benz S 500 becomes the first Mercedes-Benz plug-in Hybrid which has received the Environmental Certificate in accordance with ISO standard TR 14062.
The Mercedes-Benz S 500 Plug-in Hybrid is powered by a V6 biturbo petrol engine and an electric motor. It offers a system output of 333 hp (245 kW), while the motor – 116 hp (85 kW). When you sum this up, it makes 442 hp (325 kW) and 650 Nm (480 lb-ft) of torque in total. Yet, despite this powerful performance, the hybrid can move and travel over 20-miles on purely electrical power.
All three hybrid S-Class vehicles have environmental certificates which state the cars' environmental performance from development through to recycling, across the entire lifecycle. Furthermore, the performance is certified to internationally recognized standards by independent experts. Regarding CO2 emissions, the certificate of the S 500 Plug-in Hybrid points out:
"Over the entire lifecycle, comprising manufacture, use over 300,000 kilometers [186,411 miles] and recycling, clear advantages result compared with the S 500. External charging with the European electricity mix can cut CO2 emissions by some 43 percent (35 tonnes). Through the use of renewably generated hydroelectricity a 56 percent reduction (46 tonnes) is possible."
Source: Mercedes-Benz