Mercedes-Benz S 500 Plug-In Hybrid is a Long Wheelbase Only in the UK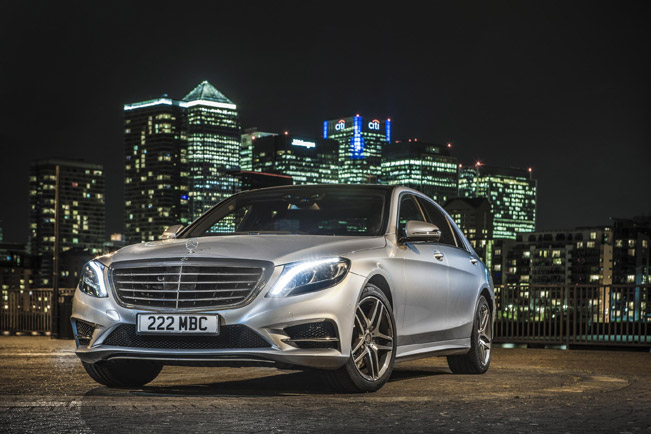 Mercedes-Benz S 500 Plug-In Hybrid shows some grate figures: the car returns 100.9 mpg UK (2.8 liters / 100 km), emits 65 g/km of CO2, and can accelerate from 0 to 100 km/h (62 mph) in 5.2-seconds before reaching a limited top speed of 155 mph (250 km/h). In fact, this Mercedes-Benz model is one of the most advanced saloons globally. Car's equipment specifications are based on the conventional S 500 L AMG Line, which means a lot of highlights.
Just take in mind the 19-inch AMG alloy wheels, AMG body styling for the front and rear bumpers, the LED intelligent light system, COMAND Online, noise insulating glass, leather upholstery and the front seat memory package, which all come as a standard.
Furthermore, the S 500 Plug-In Hybrid is powered by a V6 biturbo petrol engine and an electric motor. The engine generates 333 hp (245 kW), while the motor - 116 hp (85 kW). In total this makes 442 hp (325 kW) and 650 Nm (480 lb-ft) of torque. Despite this mighty performance, this hybrid vehicle can travel over 20-miles on purely electrical power.
S 500 Plug-In Hybrid is based on the steel and aluminium chassis structure of the conventional S-Class. In addition, it is the third Hybrid model in the line-up, together with the S 300 BlueTEC Hybrid and S 400 Hybrid variants. Its 8.7 kWh lithium-ion batteries can be topped up with the help of external charging devices such as fast chargers. A full charge takes around two hours.
The technology features are oriented to ensure that as little energy as possible is wasted. The COMAND system looks ahead of where the car is travelling to predict where energy can be recuperated. The car will look to regenerate as much power as possible in advance of entering urban areas where the electric-only driving mode can be deployed.
Furthermore, the new model utilizes a tablet or smartphone-based system to allow the driver to pre-heat or pre-cool the car. This is possible thanks to the addition of the Connect me system, which can also remotely send information to the driver when away from the car on the charge status, the predicted range and when the next service is due.
There is a lot of comfort features included. Some of them are: seven interior trims to choose from, seatbelt-mounted airbags, Air Balance perfume diffuser system, Magic Body Control, etc.
Mercedes-Benz S 500 Plug-In Hybrid will be offered in long wheelbase form in the UK. Its price tag will begin from £87,965. Production of the car starts in October and first deliveries are expected a month later.
Source: Mercedes-Benz