2014 Mercedes-Benz S-Class Fully Revealed!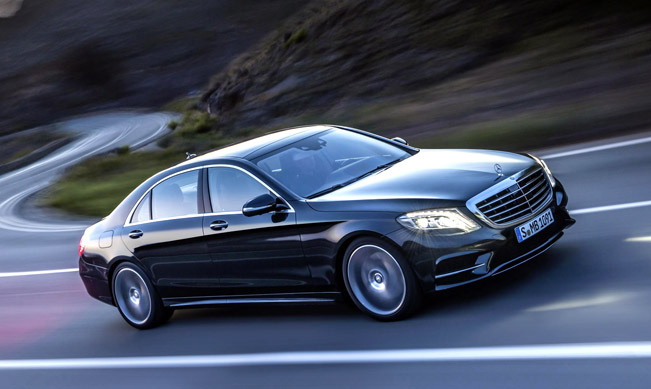 2014 Mercedes-Benz S-Class has been finally fully revealed showing its incomparable characteristics, exceptional attributes and full capability of luxury and style. The brand relies here in three engineering priorities "Intelligent Drive", "Efficient Technology" and "Essence of Luxury". This simply means that the 2014 S-Class extends the boundaries of technology on many levels.
Perfection to the last detail and the pursuit of the bet results in motto - "The Essence of Luxury" seen very prominently thorough the interior. There, new ideas are fully expressed whether it is the seats or the air conditioning, the controls or the design, the infotainment or the comfort and safety in the rear.
The safety features included in this new Mercedes-Benz refer to the motto "Intelligent Drive". A wide range of new systems makes the new S-Class even more comfortable and safer. In addition, the model-Class offer great efficiency and improved fuel consumption in the 150 kW output category to 64.2 mpg, for instance.
In terms of exterior design some changes have been applied. They start with the radiator grille which is now larger and continue with the more upright and distinctly three-dimensional design of the body. With its long bonnet, the flowing, domed roof line and the gently slanting rear end, the S-Class looks prestigious, sporty and powerful.
The slightly slanting form of the model delivers also aerodynamic advantages. In addition, the highlights are in new-style: the tail lights are completely encased by the car body. LED technology is included, however in a single light bulb.
LED lights are included in the interior as well delivering more comfort to it. Visibility is enhanced by two assistance systems that have undergone some key improvements – Adaptive Highbeam Assist Plus and Night View Assist Plus.
More importantly, the drive system offers class-leading efficiency in every output category. The 2014 S-Class line-up includes two hybrid versions, a petrol model and a diesel variant: S 400 HYBRID, S 500, S 350 BlueTEC and S 300 BlueTEC HYBRID, respectively.
2014 Mercedes-Benz S-Class model data:
| | | | | |
| --- | --- | --- | --- | --- |
| Model | S 400 HYBRID | S 500 | S 350 BlueTEC | S 300 BlueTEC HYBRID |
| Number of cylinders/arrangement | 6/V | 8/V | 6/V | 4/in-line |
| Displacement (cc) | 3498 | 4663 | 2987 | 2143 |
| Rated output (hp at rpm) | 306 at 6500 | 455 at 5250 | 258 at 3600 | 204 at 4200 |
| Rated output of electric motor (kW) | 20 | - | - | 20 |
| Rated torque (Nm at rpm) | 370 at 3500-5250 | 700 at 1800-3500 | 620 at 1600-2400 | 500 at 1600-1800 |
| Rated torque of electric motor (Nm) | 250 | - | - | 250 |
| Combined fuel consumption from (mpg) | 44.8 | 32.7 | 51.3/50.41 | 64.2 |
| Combined CO2 emissions from (g/km) | 147 | 199 | 146/1481 | 115 |
| Efficiency class | A | D | A | A+ |
| Acceleration 0-62 mph (s) | 6.8 | 4.8 | 6.8 | 7.6 |
| Top speed (mph) | 155 | 155 | 155 | 148 |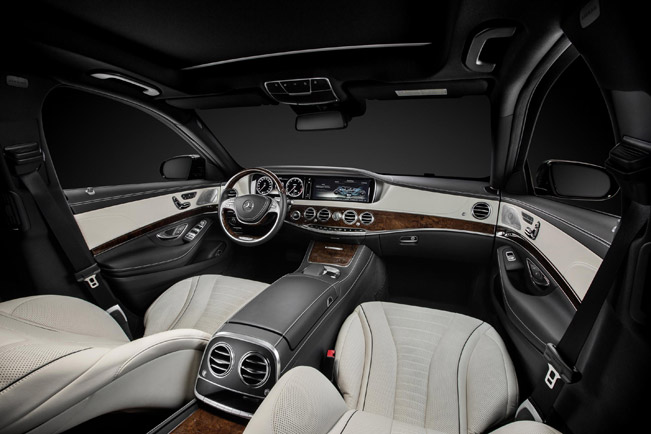 Moreover, the new S-Class is the first vehicle on Earth which will be able to detect bumps on the road ahead thanks to the ROAD SURFACE SCAN Technology. It detects unevenness by means of the stereo camera. Then the MAGIC BODY CONTROL sets up the suspension and manages the situation. Standard equipment for the new S-Class includes the continuously operating Adaptive Damping System ADS PLUS and an enhanced version of the full air suspension system AIRMATIC.
To go further into details, the body of the car offers maximum stability and high-quality lightweight design, high level of crash safety, excellent rigidity and extremely low levels of noise and vibration. The bodyshell is made of a third-generation aluminium hybrid which results in lightweight construction.
In terms of safety and security, there steps in the extended PRE-SAFE® protection system.
It helps prevent collisions with pedestrians and vehicles in front in city traffic and in dangerous situations in general. In addition, there are new functions that rely on sensor system, comprising a new stereo camera together with multistage radar sensors.
To sum up, the list of new assistance systems includes the following: DISTRONIC PLUS with Steering Assist and Stop&Go Pilot, Brake Assist System BAS PLUS with Cross-Traffic Assist, Active Lane Keeping Assist, Adaptive Highbeam Assist Plus, Night View Assist Plus and Attention Assist.
2014 Mercedes-Benz S 350 BlueTEC:
Engine
| | | |
| --- | --- | --- |
| Number of cylinders/arrangement | | V6, four valves per cylinder |
| Displacement | cc | 2987 |
| Bore x stroke | mm | 83.0 x 92.0 |
| Rated output | kW/hp | 190/258 at 3600 rpm |
| Rated torque | Nm | 620 at 1600-2400 rpm |
| Compression ratio | | 15.5:1 |
| Mixture formation | | High-pressure fuel injection with common-rail technology, VNT turbocharger, EDC |
Power transmission
Transmission
7G-TRONIC PLUS automatic transmission
Gear ratios
Final drive

1st gear

2nd gear

3rd gear

4th gear

5th gear

6th gear

7th gear

Reverse 1

Reverse 2

2.47

4.38

2.86

1.92

1.37

1.00

0.82

0.73

3.42

2.23
Chassis and suspension
| | |
| --- | --- |
| Front axle | Four-link front suspension with air springs, single-tube shock absorbers, anti-roll bar |
| Rear axle | Multi-link independent rear suspension with air springs, single-tube shock absorbers, anti-roll bar |
| Braking system | Internally ventilated disc brakes at front, internally ventilated disc brakes at rear, electric parking brake, ABS, Brake Assist, ESP® |
| Steering | Electromechanical rack-and-pinion power steering |
| Wheels | 8.0 J x 17 |
| Tyres | 245/55 R 17 W |
Dimensions and weights
| | | |
| --- | --- | --- |
| Wheelbase | mm | 3165 |
| Track, front/rear | mm | 1624/1637 |
| Length (overall) | mm | 5246 |
| Width (overall) | mm | 1899 |
| Height (overall) | mm | 1491 |
| Turning circle | m | 12.3 |
| Boot capacity max.* | l | 510 |
| Kerb weight acc. to EC | kg | 1975 |
| Payload | kg | 715 |
| Permissible gross vehicle weight | kg | 2630 |
| Tank capacity/of which reserve | l | 70/8 |
Performance and fuel consumption
| | | |
| --- | --- | --- |
| Acceleration 0-100 km/h | s | 6.8 |
| Top speed | km/h | 250 |
| Combined fuel consumption | l/100 km | 5.6-5.0 |
| CO2 emissions | g/km | 158-148 |
2014 Mercedes-Benz S 400 HYBRID
Engine
| | | |
| --- | --- | --- |
| Number of cylinders/arrangement | | V6, four valves per cylinder |
| Displacement | cc | 3498 |
| Bore x stroke | mm | 92.9 x 86.0 |
| Rated output | kW/hp | 225/306 at 6500 rpm |
| Rated output electric motor | kW | 20 |
| Rated torque Rated torque electric motor | Nm Nm | 370 at 3500-5250 rpm 250 |
| Compression ratio | | 12.0:1 |
| Mixture formation | | High-pressure injection |
Power transmission
Transmission
7G-TRONIC PLUS automatic transmission
Gear ratios
Final drive

1st gear

2nd gear

3rd gear

4th gear

5th gear

6th gear

7th gear

Reverse 1

Reverse 2

3.07

4.38

2.86

1.92

1.37

1.00

0.82

0.73

3.42

2.23
Chassis and suspension
| | |
| --- | --- |
| Front axle | Four-link front suspension with air springs, single-tube shock absorbers, anti-roll bar |
| Rear axle | Multi-link independent rear suspension with air springs, single-tube shock absorbers, anti-roll bar |
| Braking system | Internally ventilated disc brakes at front, internally ventilated disc brakes at rear, electric parking brake, ABS, Brake Assist, ESP® |
| Steering | Electromechanical rack-and-pinion power steering |
| Wheels | 8.0 J x 17 |
| Tyres | 245/55 R 17 W |
Dimensions and weights
| | | |
| --- | --- | --- |
| Wheelbase | mm | 3165 |
| Track, front/rear | mm | 1624/1637 |
| Length (overall) | mm | 5246 |
| Width (overall) | mm | 1899 |
| Height (overall) | mm | 1491 |
| Turning circle | m | 12.3 |
| Boot capacity max.* | l | 510 |
| Kerb weight acc. to EC | kg | 1945 |
| Payload | kg | 685 |
| Permissible gross vehicle weight | kg | 2630 |
| Tank capacity/of which reserve | l | 70/8 |
Performance and fuel consumption
| | | |
| --- | --- | --- |
| Acceleration 0-100 km/h | s | 6.8 |
| Top speed | km/h | 250 |
| Comb. fuel consumption | l/100 km | 6.8-6.3 |
| CO2 emissions | g/km | 159-147 |
2014 Mercedes-Benz S 500
Engine
| | | |
| --- | --- | --- |
| Number of cylinders/arrangement | | V8, four valves per cylinder |
| Displacement | cc | 4663 |
| Bore x stroke | mm | 83.0 x 92.0 |
| Rated output | kW/hp | 335/455 at 5250-5500 rpm |
| Rated torque | Nm | 700 at 1800-3500 rpm |
| Compression ratio | | 10.5:1 |
| Mixture formation | | High-pressure injection, two turbochargers, EDC |
Power transmission
Transmission
7G-TRONIC PLUS automatic transmission
Gear ratios
Final drive

1st gear

2nd gear

3rd gear

4th gear

5th gear

6th gear

7th gear

Reverse 1

Reverse 2

2.65

4.38

2.86

1.92

1.37

1.00

0.82

0.73

3.42

2.23
Chassis and suspension
| | |
| --- | --- |
| Front axle | Four-link front suspension with air springs, single-tube shock absorbers, anti-roll bar |
| Rear axle | Multi-link independent rear suspension with air springs, single-tube shock absorbers, anti-roll bar |
| Braking system | Internally ventilated disc brakes at front, internally ventilated disc brakes at rear, electric parking brake, ABS, Brake Assist, ESP® |
| Steering | Electromechanical rack-and-pinion power steering |
| Wheels | 8.0 J x 18 |
| Tyres | 245/50 R 18 W |
Dimensions and weights
| | | |
| --- | --- | --- |
| Wheelbase | mm | 3165 |
| Track, front/rear | mm | 1624/1637 |
| Length (overall) | mm | 5246 |
| Width (overall) | mm | 1899 |
| Height (overall) | mm | 1491 |
| Turning circle | m | 12.3 |
| Boot capacity max.* | l | 530 |
| Kerb weight acc. to EC | kg | 2015 |
| Payload | kg | 715 |
| Permissible gross vehicle weight | kg | 2690 |
| Tank capacity/of which reserve | l | 78/8 |
Performance and fuel consumption
| | | |
| --- | --- | --- |
| Acceleration 0-100 km/h | s | 4.8 |
| Top speed | km/h | 250 |
| Combined fuel consumption | l/100 km | 9.1-8.6 |
| CO2 emissions | g/km | 213-199 |
2014 Mercedes-Benz S-Class Pricing:
| | | |
| --- | --- | --- |
| Diesel | | Euros |
| S 350 BlueTEC | Short wheelbase | 79,789.50 |
| S 350 BlueTEC | Long wheelbase | 85,323.00 |
| Petrol | | |
| S 400 HYBRID | Short wheelbase | 85,204.00 |
| S 400 HYBRID | Long wheelbase | 91,094.50 |
| S 500 | Short wheelbase | 104,601.00 |
| S 500 | Long wheelbase | 107,635.50 |
Source: Mercedes-Benz