Mercedes-Benz S 500 Plug-In Hybrid To Debut In Frankfurt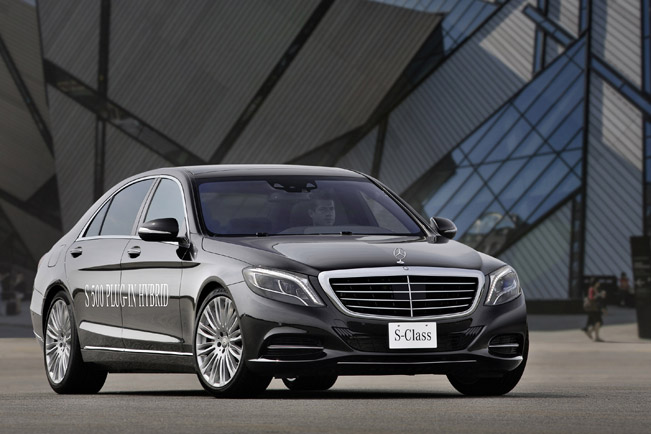 Mercedes-Benz S 500 Plug-In Hybrid is the third hybrid model of the new S-Class. It comes to new standards in terms of efficiency, drive-system and climate comfort. The new Mercedes-Benz hybrid vehicle emits only 69 g/km of CO2 and returns 94.2 mpg.
In fact, the new S-Calss can cover 100 kilometres with just three litres of fuel. It is equipped with 80-kW electric drive with externally rechargeable battery which contributes towards emission-free driving for about 18 miles. The electric motor is coupled 3.0-litre V6 turbocharged engine.
Some additional features included in the new model are the second-generation recuperative braking system and the anticipatory Intelligent HYBRID energy management system. What is more, the high-voltage lithium-ion battery of the car offers the option of being recharged from an external source with a charging socket located on the right side of the rear bumper.
Four hybrid operating modes can be selected at the push of a button, these are HYBRID, E-MODE (electric power only), E-SAVE (fully charged battery is reserved to be able to drive on electric power alone later), CHARGE (battery is charged while driving).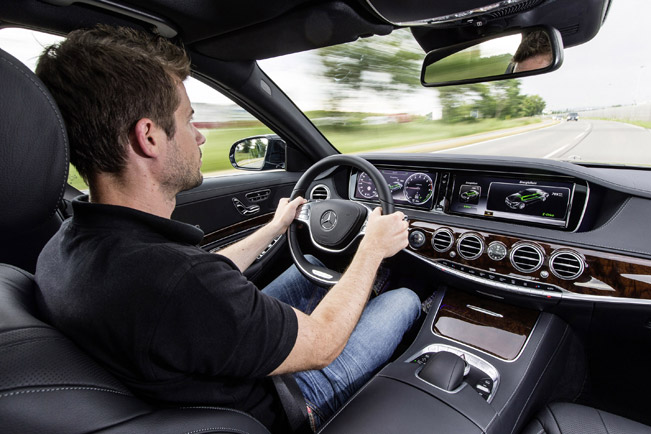 However, the most important highlight of the S 500 Plug-In Hybrid is its power output of 333 hp (245 kW) of the combustion engine plus 109 hp (80 kW) electric motor and torque of 480 Nm (354 lb-ft) of the combustion engine plus 340 Nm (250 lb-ft) of the electric motor.
These figures make it possible for the vehicle to accelerate from 0 to 100 km/h for only 5.5 seconds. The top speed here is 155 mph.
The second-generation S-Class hybrids include an anticipatory energy management system which serves in terms of enhancing the energy efficiency. The operating strategy of the hybrid drive system accounts for the current driving condition and driver input. Additionally, it also adjusts to the likely route for the next five miles.
Moreover, the new S-Class is the first to use a recuperative braking system (RBS) of the second generation. It basically ensures an unnoticeable overlapping of the conventional mechanical brakes and the electric braking performance of the electric motor in alternator mode.
Mercedes-Benz S 500 Plug-In Hybrid will make its official debut in Frankfurt next month, while the market launch of the car will in 2014.
Source: Mercedes-Benz