Mercedes-Benz Vito Sport-X
The luxury brand Mercedes-Benz has worked in collaboration with Pioneer GB. The result is the Project-X which is the ultimate DJ van with Pioneer's world record holding Sound Pressure Level in-car entertainment products. The so called Project-X vehicle is based on a Mercedes-Benz Vito 122CDI Sport-X Dualiner model. The car is powered by a range-topping turbo-charged 3.0-litre V6 diesel engine and produces 224 hp (165 kW) and 440 Nm (325 lb-ft), reaching 100km/h in just 8.3 seconds with a maximum speed of 196 km/h!
The astonishing machine features almost £25,000 worth of Pioneer kit. In details there are two 15" competition class SPL subs and four 10" Champion Series subs which ensure a consistently clear, powerful and wide-ranging bass response. The vehicle also comes with two Pioneer CDJs and unique mixer. In combination both offer the perfect party set-up. The total system features no less than eight independent amplifiers using four batteries and a 300amp power supply, with a speaker power handling capability at a staggering 30,050 watts! Perfect for loud parties, isn't it?
This special edition Vito Sport-X includes also a Brabus sport steering wheel, gear lever in black leather (with Brabus emblem on it) and lowering springs, chrome sidebars, Sports exhaust, metallic paint, tinted glass, colour coded bumpers and chrome grille and tailgate trim. Hence all this makes the Project-X not only perfect in sound, but also in appearance. Simply breath-taking!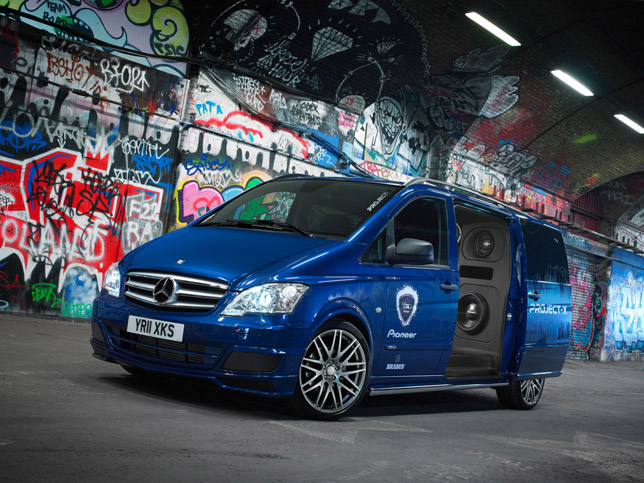 Source: Mercedes-Benz