2013 MINI Clubvan enhances the small car-based van segment
2013 MINI Clubvan has two seats, five doors and of course the unmistakable MINI style. This makes it the world's first premium compact delivery van. The model is based on the MINI Clubman platform and is designed with the aim to get the attention of new urban users.
The MINI Clubvan will bring more style, quality and driving fun in the small car-based van segment. The increased functionality offered by the MINI Clubvan is based on a closed-off load area which extends from the rear doors right up to the driver's and front passenger's seats.
In addition, the cargo can be easily reached either through the wide-opening split rear door or via the right-side Clubdoor. In other words the vehicle is the perfect versatile choice for upmarket commercial applications and for non-mainstream leisure and lifestyle use.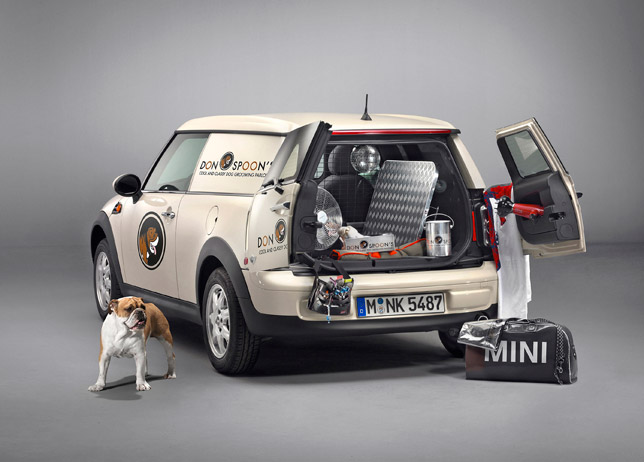 It has a length of 3,961 mm, a width of 1683 mm, a height of 1,426 mm and a wheelbase of 2,547 mm, ant these in fact are the same as those of the MINI Clubman. However, it includes only two seats and has opaque rear side windows in body-colour. The maximum payload capacity of this MINI is 500 kilograms.
More importantly, the Clubvan will come in three model versions: the 72 kW/98 hp MINI One Clubvan, the 90 kW/122 MINI Cooper Clubvan and the 82 kW/112 hp MINI Cooper D Clubvan.
All engines are efficient four-cylinder ones. In addition the vehicle includes the familiar MINI front-wheel-drive set-up, Electric Power Steering, MacPherson strut front suspension, multi-link rear suspension and powerful brakes, Auto Start/Stop, Shift Point Display, Brake Energy Regeneration and on-demand operation of ancillary units.
Going further into details, the MINI One Clubvan is equipped 1.6-litre engine with fully variable valve timing and generates maximum power of 72 kW/98 hp and provides 0 to 100 km/h (62 mph) acceleration in 11.1 seconds, with a top speed of 185 km/h (115 mph). Its avarage fuel consumption is 5.5 litres per 100 kilometres (51.4 mpg imp), with CO2 emissions of 129 grams per kilometre.
The MINI Cooper Clubvan develops maximum power of 90 kW/122 hp. This version has a 0 – 100 km/h (62 mph) sprint time of 9.8 seconds and a top speed of 201 km/h (125 mph). Here the average fuel consumption and CO2 emissions are 5.5 litres/100 km (51.4 mpg imp) and 129 g/km respectively.
The most fuel-efficient model in the line-up is the MINI Cooper D Clubvan. Its four-cylinder turbocharged diesel engine with common rail direct injection delivers 82 kW/112 hp and is able to accelerate from standstill to 100 km/h (62 mph) in 10.2 seconds, on the way to a top speed of 197 km/h (122.4 mph). The average fuel consumption is 3.9 litres/100 km (7.4 mpg imp), corresponding to CO2 emissions of 103 grams per kilometre.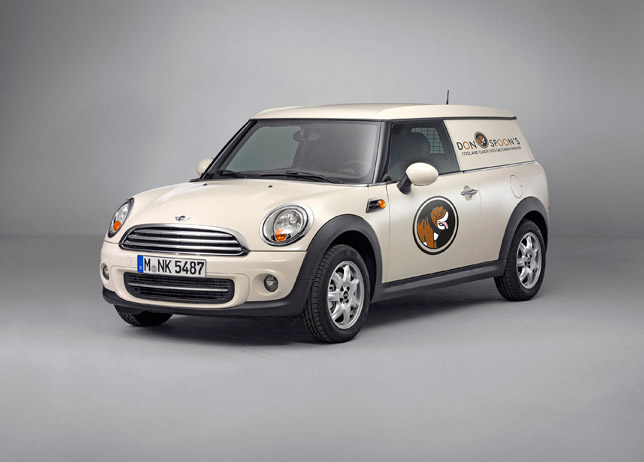 All engines are mated to a six-speed manual transmission as a standard. Optionally, the vehicles can be equipped with a six-speed automatic transmission.
Speaking about the exterior looks of the van, it will be available with a choice of four exterior paintwork shades: Pepper White, Ice Blue, British Racing Green metallic and Midnight Black metallic. The roof, rear side window area, C-pillars and exterior mirror caps are body-coloured on all model versions.
The vehicle runs on 15-inch wheels, but as an option it can be equipped with the exclusive MINI Clubvan Delta Spoke styling with 15, 16 or 17-inch alloy wheels.
On the other hand, the interior includes black seats with Cosmos fabric upholstery, a black interior colour scheme and Fine White Silver trim strips. This is the standard on all models. Optionally, the interior design can be customised to any individual requirements.
MINI Clubvan has also an extensive range of optional extras: xenon headlights, black headlight shells, Adaptive Headlights, Automatic Climate Control, Park Distance Control, automatically dimming interior and exterior mirrors, a trailer hitch, the MINI Boost CD radio, MINI Visual Boost radio, MINI navigation system.
2013 MINI Clubvan will be at dealerships in autumn this year.
Source: MINI