2012 MINI Clubman Hyde Park and MINI Green Park offer style and excitement
The new design models 2012 MINI Clubman Hyde Park and MINI Green Park are going to deliver even more style and excitement in the MINI fleet. They come with exclusive colour combinations and trim levels, which give them classic and sporty stance.
What is more, these two MINI models are going to offer their customers harmoniously combined design and trim features for the exterior and interior.
Both design models are available all around the world in MINI and MINI Clubman body styles.
More importantly, the customers can choose up to four engine variants:
MINI Cooper and MINI Cooper Clubman with 90 kW/122 hp
MINI Cooper D and MINI Cooper D Clubman with 82 kW/112 hp
MINI Cooper S and MINI Cooper S Clubman with 135 kW/184 hp
MINI Cooper SD and MINI Cooper SD Clubman with 105 kW/143 hp
All of the above mentioned engines come as standard with a six-speed manual transmission, while a six-speed automatic is optional.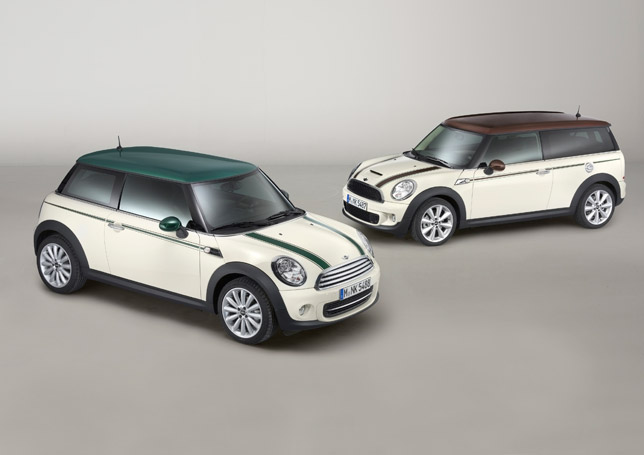 2012 MINI Clubman Hyde Park embodies the classic British lifestyle. It has a discreet Pepper White body color which is combined with Hot Chocolate contrasting paintwork on the roof and exterior mirror caps.
In addition, regarding the MINI Clubman color scheme there are included the lower sections of the C-pillar in body color. And in order to match the contrasting paintwork, the MINI Hyde Park also sports bonnet and side stripes in Hot Chocolate. Another highlight is the indicator lenses in transparent white.
The interior of the MINI Hyde Park is as special as the interior. The surfaces are in Pepper White, and the seat upholstery and optional Color Line draw on the entire range available to the MINI and MINI Clubman. Furthermore, to make the interior even more stylish, the seats are in cloth/leather or Leather Gravity with the Carbon Black or Polar Beige Color Line. The MINI Yours dashboard lined comes in leather in a Black/Polar Beige combination.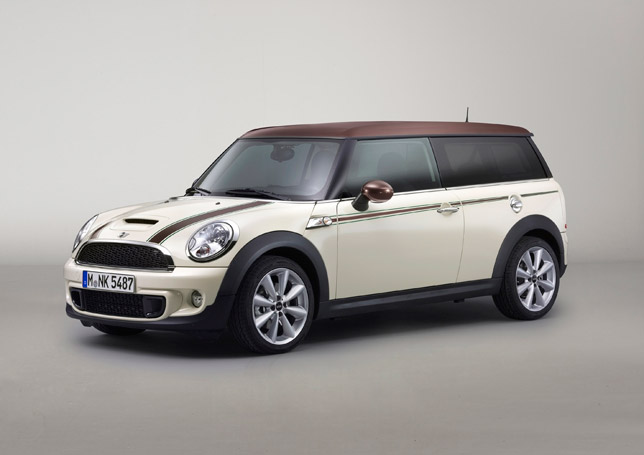 On the other hand 2012 MINI Green Park comes offering sporting heritage. Its design embodies the traditional British passion for sporting competition.
British Racing Green paintwork is featured in the roof and exterior mirror caps display. The bonnet stripes are in British Racing Green as well. Additionally, the transparent white lenses for the direction indicators heighten the distinctly classic-sporty look. The lower C-pillars of the MINI Clubman are in body color.
Here too, the interior surfaces are in Pepper White, reflecting a cabin design that takes its cue from the exterior. Aging, the seats in Black or Polar Beige and the MINI Yours leather-lined dashboard in a combination of Black/Polar Beige.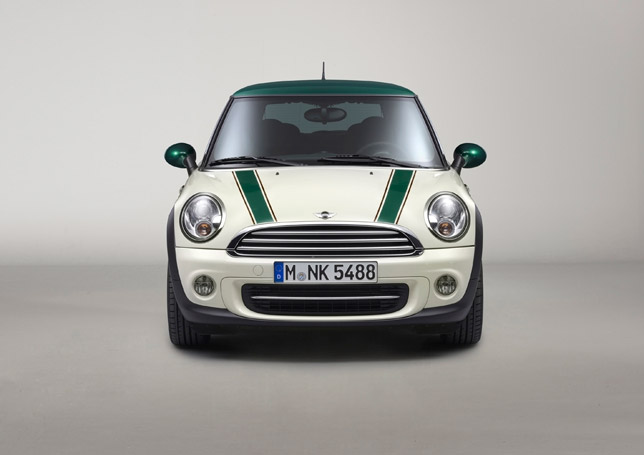 Source: MINI