MINI teams with JustPark to make parking easier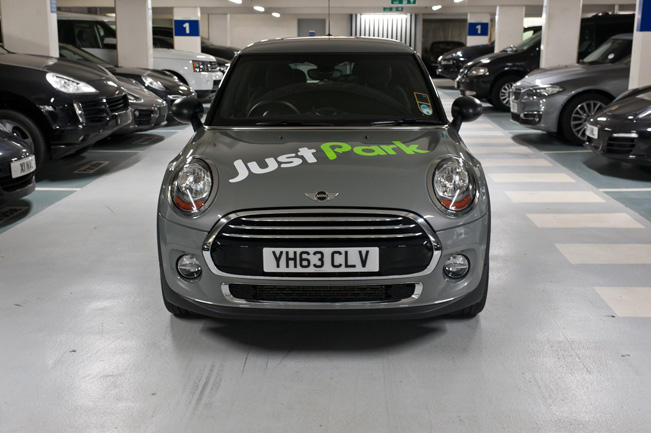 Having a car brings many benefits to your life but in many cases you may find it really hard to find a parking spot. In fact statistics shows worrying facts – motorists waste 106 days of their lives just looking for a spot. There's light in the tunnel, though – British Motor Corporation (BMC) and its brand MINI have teamed up with the online service JustPark to provide a service that allows drivers to secure a parking spot in advance directly from their dashboards.
The only thing you have to do now in order to take advantage of the new service is to drive a MINI and then download a special application from the Apple App Store. By using the app, JustPark-registered drivers can find, book and navigate to a parking spot, choosing from more than 100,000 spaces across the United Kingdom.
This is how the whole thing works – drivers can download and then integrate the app in the vehicle's navigation system and then they can choose whether to input their final destination or look for a parking spot around them while on the go. The app provides drivers with a number of conventional parking spaces, from car parks and hotels to homes and pubs. In addition to that they can look for location details, pricing and reviews left by previous drivers.
Once you choose and pay for a parking space you will be navigated to the destination by the vehicle's navigation system. The best part is that the app has been designed for use while on the go and it has also undergone extensive testing by BMW laboratories in Germany.
The app is the latest product of the partnership between JustPark and BMW Ventures, the venture capital arm of BMW that invests in startups working to improve mobility in urban areas and took a strategic stake in JustPark – formerly known as ParkatmyHouse – in 2011.
JustPark founder, Anthony Eskinazi, said: "In 2014, no driver should have to experience the stress and uncertainty of circling the streets for that elusive parking space. JustPark gives drivers the convenience of finding and reserving an affordable parking space in moments. Just as we use apps to order taxis and takeaways, parking is finally being brought out of the dark ages."
The MINI will be the first car to enjoy the new service but JustPark expects to be able to offer the service to many more car brands in the near future.
Source: MINI UK