MINI's New Range Gets Entirely Redesigned Original MINI Accessories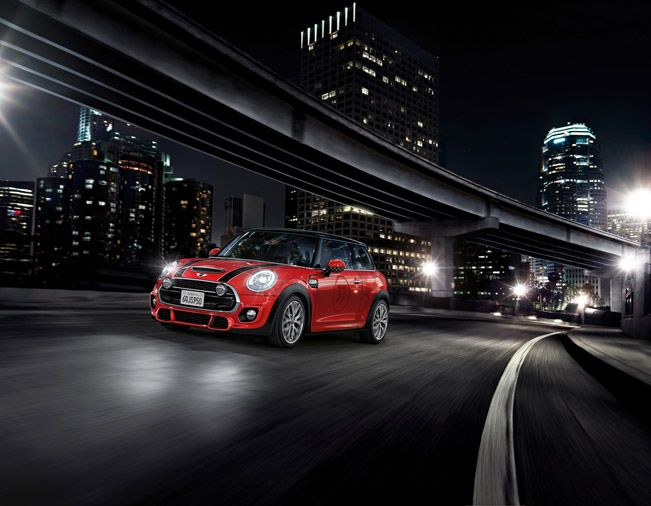 The improved and more stylish Original MINI Accessories will add enhanced individuality ti the new MINI range. The program will be available this spring and will include some striking exterior touches, high-quality detailing for the interior and exceptional light alloy wheels.
The Original MINI Accessories has been completely redesigned in order to match the entirely redesigned MINI model. Some of the classic elements are kept: roof graphics, exterior mirror caps and additional headlamps. What is new however are the design concept for the exterior and interior made up of four MINI Design Lines, dubbed Vivid Green, Speedwell Blue, John Cooper Works Pro and Essential Black.
Each of the four design lines ensures a co-ordinated approach to the outside and inside of the car. This includes even the textile and all-weather floor mats, sun protection elements, door sill cover strips, exterior and interior mirror caps, roof and side graphics, side indicator surrounds, key lanyards, protective covers and luggage compartment items.
To go even further into details, let's review every single theme. First of all, the Vivid Green gives accessories fresh look with striking dashes of rich green against a black background. Next, the Speedwell Blue is for those who want to add a touch of sporty flair and tradition. The latter is emphasized via the reinterpretation of the red, white and blue of the Union Jack, combined with a warm brown tone.
The third theme is the John Cooper Works Pro and it reflects a passion for racing with a vibrant chequered flag in black, red and grey. At last comes the Essential Black which delivers an elegant design that's pared back to a chequered pattern which runs diagonally.
The mirror caps, both internal and external, which are so typical for the MINI models, can be now ordered in the same design lines as well as in Union Jack, Black Jack, Chequered Flag Black/Grey, Chequered Flag Black/White, John Cooper Works Pro Carbon, Big Bang and Gold Jack.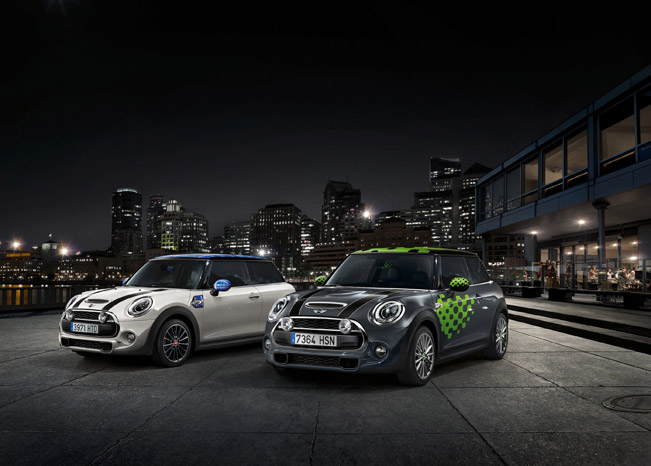 On the roof the customers can chose among the following roof graphics: motifs Union Jack, Black Jack, Gold Jack, Chequered Flag Grey, Chequered Flag White. Additional options for the standard roof are Speedwell Blue, Vivid Green, John Cooper Works Pro and Chequered Flag Black.
Next, additional design accents can be achieved through the addition of stylishly improved side indicator surrounds, which are available in Union Jack, Black Jack, Chequered Flag Black/Grey, Chequered Flag Black/White, MINI Design Lines Vivid Green, Speedwell Blue and John Cooper Works Pro.
At the sides there is also being offered the option of side graphics in Vivid Green, Speedwell Blue and John Cooper Works Pro, as well as a new version of the John Cooper Works design in the colours Chilli Red and Jet Black.
Exclusively for the design line of MINI Essential Black, are the floor mat and tray, which were made from an anti-slip and waterproof material with straps for easy removal. The luggage compartment floor mat has a textile strip surround, while the tray includes partitions made of brushed aluminium.
Moreover, other individual enhancements that can be added feature sun protection elements for the rear window and rear side windows, door sill cover strips backlit with LEDs, additional main beam headlamps and a synthetic fabric car cover. Of course, each element is in one of the four design lines.
What is also new in MINI Origian Accessories range is the addition of 18-inch forged aluminium rims in cross-spoke design. There are also 17-inch light alloy wheels in multi-spoke design, available in Bright Silver metallic or Liquid Black. The hub caps on all MINI light alloy wheels can be finished in Chilli Red, Bright Orange, Apple Green or Bright Yellow.
Source: MINI