Mitsubishi G4 Concept Compact Sedan Debuts In Bangkok [TEASER]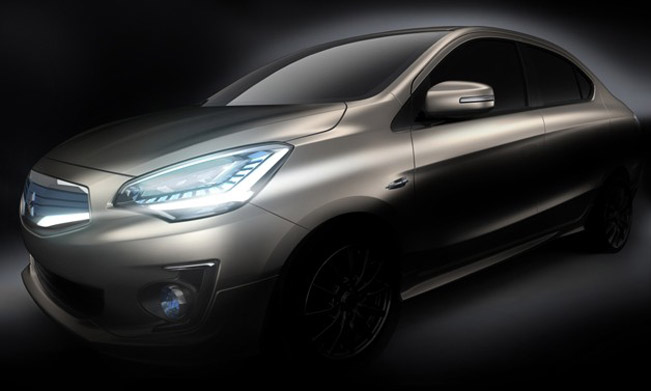 Mitsubishi G4 Concept Compact Sedan is a new new-generation compact sedan which is going to make a world debut at the 34th Bangkok International Motor Show on 25th of March. It will be exhibited next to Concept GR-HEV3 concept and FR4 sport utility truck powered by a diesel-hybrid drivetrain.
In addition, the Thailand-built production models which are going to be seen at the Show are the Mirage global compact car, the Lancer EX mid-size sedan, Triton pickup and Pajero Sport SUV.
The G4 Conecept is planned to be produced globally in the future. This Mitsubishi concept utilizes a high-clarity brilliant-cut diamond motif in the design of the front grill, headlamps and rear combination lamps which are creating a frontal visage with a commanding presence and a tail end leaving a sharp impression as it drives off into the distance.
In addition, the model has great styling attributes such as short nose which delivers an excellent view and superior maneuverability, graceful and flowing side proportions. In addition, it has been also unveiled that the model will have generous interior space, very sleek aerodynamics, and a dynamic character line visible at the rear.
Furthermore, the Mitsubishi Concept G4 will deliver outstanding fuel efficiency thanks to its RISE (Reinforced Impact Safety Evolution) body. This is the lightest body in its class due to the extensive use of high-tensile steel. What is more, the model will be powered by a lightweight and compact 1.2-liter MIVEC engine matched to a CVT with sub-geartrain.
The fun of driving is ensured thanks to the lighter weight. Adding to this are the great handling and stability which this concept delivers, as well as the comfortable ride. In addition, the comfort of the occupants is additionally improved by the high hip point and large door openings which facilitate entry and exit as well as by its generous rear seat leg space.
Source: Mitsubishi