MSO to Showcase Carbon Fiber Tribute to P1 and Limited 675LT Spider in Geneva

McLaren and MSO (McLaren Special Operations) are going to have a strong presence at the Geneva Motor Show this year. MSO division is going to pay a carbon fibre tribute to the P1™ which was recently stopped from production. In addition, MSO will also display a bespoke version of the 675LT Spider which is actually making first public appearance after it was sold in weeks. They will line up alongside the new 650S GT3 racing car and a future production car that will join the Sports Series family.
McLaren P1™ by MSO
Starting with the P1 by MSO, this is one of the 375 road legal versions produced. It is adorned by a full visual carbon fibre body which has been hand-laid, and is painted in 'Lio Blue' tinted lacquer. The exclusive look of the car is strengthened by a gloss black finish to the wheels, an extensive new trim of the interior with carbon black Alcantara and contrasting blue stitching. There is even a 24-carat gold exhaust heatshield.
McLaren 675LT Spider by MSO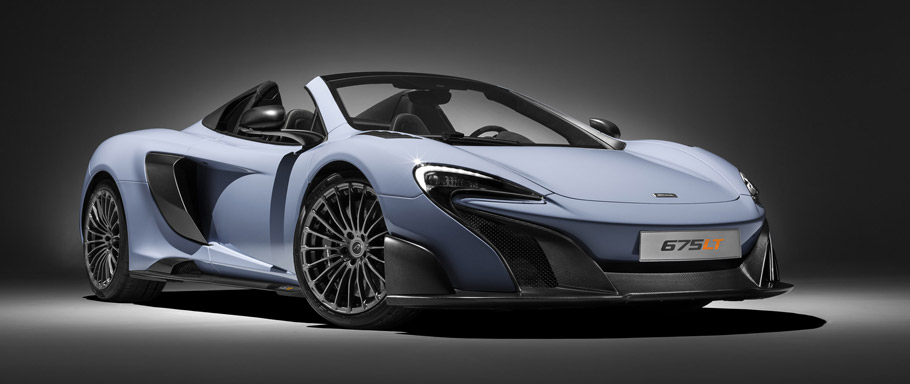 This car is making public debut in Geneva and is actually limited to only 500 examples globally. Painted in Ceramic Grey it also feature an abundant carbon fibre trim. Even the hardtop is made of "satin" carbon fibre. It retracts at speeds up to 40km/h (25mph) and saves 1kg, while the front wings include carbon fibre louvres.
SEE ALSO: McLaren Announces Plans and Details Ahead of Geneva Motor Show
The body color was also used for the 'Longtail' Airbrake. The lower plane shows the natural carbon fibre weave as do the aerodynamic front bumper end plates, side skirts, side intakes and rear bumper. Inside dwells a pair of black Alcantara trimmed racing seats with contrasting Xenon Yellow stitching with the rotary Handling and Powertrain controls on the Active Dynamics Panel finished in Solis.
Gold detailing has been used here too. It is visible through the exposed engine bay with a 24-carat gold heatshield around the titanium exhaust system. At last, we should say that the performance for the 675LT Spider by MSO will remain unchanged, meaning that it will be powered by the 3.8-litre twin turbo V8 with 675PS (666bhp) and 700Nm (516lb ft). Just as a reminder, the figures which it generates are: 2.9 seconds for the acceleration spring from 0 to 100km/h (62mph) and a top speed of 326km/h (204mph).
Source: McLaren MSO