New Photoshoot For 2013 Prior-Design Audi R8 PD GT850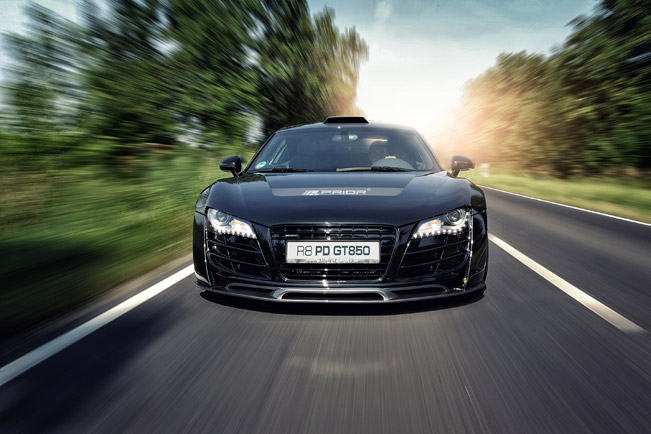 Prior Design Audi R8 GT850 Widebody is a transformation which we already know very well. However, the specialists at the tuning company have just released some new stunning images of the car which a worth ones attention.
As seen on the images, the Audi R8 has masterful presence due to the V10 engine that lies under its hood. This means that Prior Design Audi R8 GT850 offers exceptional performance. The 5.2 litre engine can generate up to 525 hp (386 kW) and 530 Nm (391 lb-ft) of torque. This on the other hand results only in excellent acceleration time for the sprint from 0 to 100 km/h, which is 4.1 seconds.
Having all these facts in mind, the professionals at Prior-Design have created for this Audi, the PD GT850 Widebody Aerodynamic-Kit. To be more precise, the kit consists of the following: PD GT850 front bumper, PD GT850 front lip spoiler (for PD GT850 front bumper), PD GT850 side skirts, PD GT850 rear bumper, PD GT850 rear diffusor, PD GT850 front fenders, PD GT850 rear widenings, PD GT850 front bonnet and PD GT850 rear trunk spoiler.
All of the elements utilized here are made from quality Dura-Flex FRP (Fiber Reinforced Plastic) material which has excellent surface finish and provides enough flexibility. In addition, the parts are all made with excellent fitment with no modifications or changes needed.
Source: Prior-Design