The White Phoenix: Famous Parts Audi R8 Wide Body PD GT-850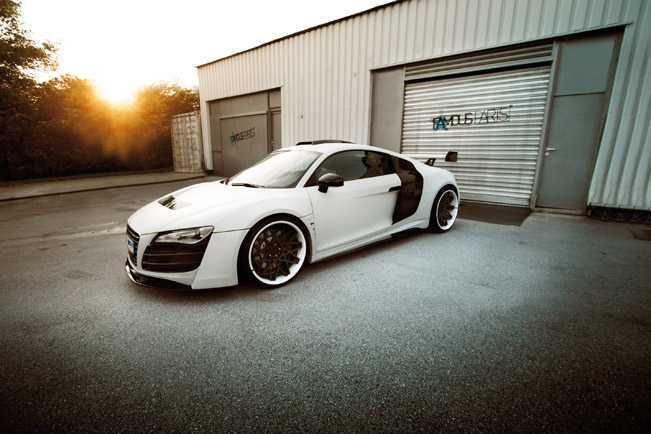 The German tuning specialists at Famous Parts have been lately cooperating with the aerodynamic masters at Prior-Design. They have joined forces in order to create a stunning project in which the main star is the Audi R8.
Of course, Prior Design gave its best and delivered all parts of the coveted GT-850 body kit. The work of the technicians of Famous Parts was to properly install the as well as to do the remaining conversion works.
Thanks to the GT-850 wide body kit the Audi is now six centimeters wider at the front and eight centimeters wider at the rear, when compared to the production version. Instead of wrapping the car, Famous Parts decided to paint the R8 in the limited serial colour "Pearl matt white".
To complement even further the masterful appearance of the car, the tuners equipped it with a proper set of shoes. In particular, these are the exclusive three-part Rotiform forged alloy wheels in size of 10Jx20 inches matched with 255/30R20 at the front, and the extremely broad 13.5Jx20 inches matched with 345/25R20 Continental Sport contact tyres at the rear.
In addition, on the four ends of the R8 chassis frame there has been installed adaptive damper system called "Magnetic Ride". And in order to match the painting, the outer rims of the Rotiform wheels were wrapped in white.
More importantly, the driving unit of this vehicle was also enhanced. This happened with the help of the installation of premium Capristo flap sports exhaust system. The latter is made of stainless steel and it also includes remote control and four-fold sound selection. In addition to this, there was also a complex software optimization, as well as installation of company's own modified air piping system.
Source: Famous Parts