Prior Design Audi R8 GT850 With New Photoshoot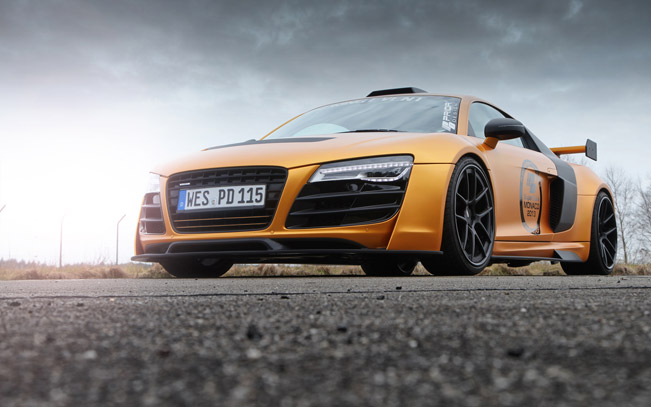 Prior Design Audi R8 GT850 is a tuning we are already familiar with. However it is worth the attention of the new images that the specialists at Prior-Design have released. The Audi R8 has masterful presence thanks to the V10 engine that is equipped with.
In general, the car can accelerate form 0 to100km/h in only 4.1 seconds on its way to a top speed of 194 mph. The power it generates is 525 hp (386 kW) and 530 Nm (391 lb-ft) of torque.
The special Audi R8 PD GT850 Widebody Aerodynamic-Kit developed from the tuners consists of PD GT850 front bumper, PD GT850 front lip spoiler (for PD GT850 front bumper), PD GT850 side skirts, PD GT850 rear bumper, PD GT850 rear diffusor, PD GT850 front fenders, PD GT850 rear widenings, PD GT850 front bonnet, PD GT850 rear trunk spoiler.
All that we can do now, except of dreaming of driving this exceptional car is to enjoy the beautiful pictures disclosed below.
Source: Prior-Design