Prior Design Audi R8 PD GT850 - Seduction in Red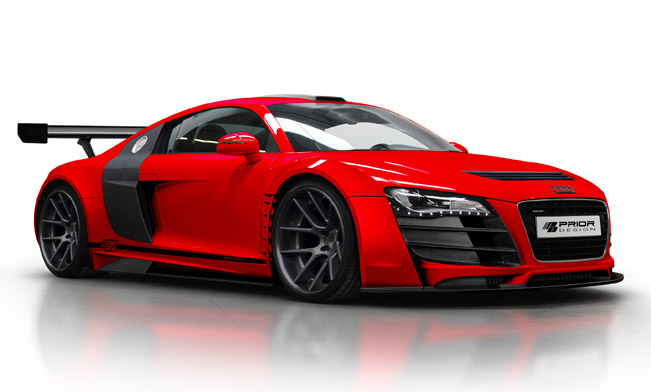 Prior Design Audi R8 PD GT850 is the latest and breathtaking tuning of the folks from the studio Prior Design. Being a true Audi R8, the supercar impresses with both outstanding look and spectacular driving performance. However, this fact didn't stop the tuners and they have put all their efforts in order to make it even better.
The result is truly impressive, we must admit. They have turned this Audi model into a brutal PD-GT850 racing style car. Here we can see that the front is entirely revised, where a front apron with widenings and an integrated carbon spoiler was installed.
Furthermore, two air inlet covers were integrated and were applied with two carbon struts each. In addition, the motor cowl has an integrated air outlet with four lamellae. And if we have to ask why this incredible car looks much wider, well the answer lies in the installation of a set of new front mudguards.
Next to be mentioned is the improved air circulation along the vehicle sides. This was achieved by installing aerodynamically formed side sills that also optionally light the vehicle underbody with four LED lamps.
The tail area could have been taken off of a GT3-racing car. A massive tail spoiler and a tail bumper with lateral air inlets, as well as a Carbona application put a lot more power onto the rear axle. Of course, the powerful stance here is complemented by tail widenings.
A great deal here is also the matching wheel/tyre combination for the R8. Now the car runs on a 3-part ADV1 Concave-wheel in 20 inch with Continental tyres in 265/30R20 and 325/25R20.

Prior-Design also offers as an option here a special sports exhaust system with flap control. For the "small" 4.2 FSI engine the power can be raised from 420 (309 kW) to 475 hp (350 kW). In addition there is an option which includes compressor conversion with power upgrade which reaches a full 565 hp (415 kW).
Source: Prior Design