The Next Big Thing: DMC Ferrari F12 Berlinetta SPIA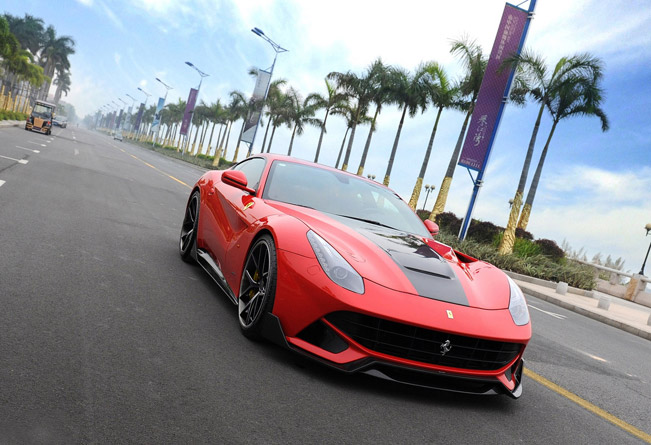 DMC Ferrari 12 Berlinetta SPIA has been teased in the beginning of the week is now officially revealed. With the new F12 Ferrari hitting the market, the tuning specialists at DMC have decided to show that this vehicle can be even more exceptional than ever.
To be more precise the standard Berlinetta comes with 740 PS (544 kW). This means that it generates more than any street-legal Ferrari. This great amount of power did not stop the tuners and they have developed a performance package that enhances the power of the F12 up to 764 PS (562 kW). This force enables the car to reach nearly 350 km/h.
What is responsible for the gained power is the new Titanium Exhaust which in addition, helps the super car produce martial brutal sound. Another eye-catching part of the tuning is the set of forged 22" Rims and Sport Springs which are an upgrade of the OEM 20" wheels.
They also serve as an enhancer of the overall handling of the car. For the front DMC used 9,5 x 21" wheels matched with Pirelli Sport Tyres in dimensions of 255/30. On the other hand at the rear were added 12x22 inch wheels with tyres in dimensions of 335/25.
More importantly, the car includes carbon fiber body kit that gives it brand new and more aggressive look and improved aerodynamics. For instance, here the front diffuser is exchanged with a prominent new lip splitter, which not only extends the car, but also features its own centric sword.
Moreover, the front hood is also new and made of carbon fiber. There is also an optional roof scoop. For instance, the kit is in alliance with the hood which is exposed in the centre only. Thanks to the fact that the side skirts are extended they deliver better road stability by using a pair of diffuser plates, and also include flaps matching those found on the front diffuser.
On the other hand, the newly designed rear diffuser matches perfectly the 599XX esque spoiler at the trunk. Of course, the diffuser is made of pure carbon fiber. Additionally, it exhibits giant fins that gives the Ferrari even more provocative appearance.
In terms of interior of the F12, it includes refinements of italian fine leathers and carbon fiber. There are also plenty of newly designed buttons and trims, and a redesigned steering wheel.
Source: DMC