Nissan At The 2008 Paris International Motor Show
A world premiere of a futuristic concept car and of an all-new production car, as well as a heavily revised version of an existing model will be the stars of Nissan's 2008 Paris Motor Show.
All the stars of the show share a philosophy of tackling the reality of mobility in and around the city, today, tomorrow and in the more distant future.
Nuvu
Nissan's vision for the future of urban transportation is encapsulated in Nuvu, literally a 'new view' of the type of car we will be driving in the middle of the next decade. Compact - it's just 3 meters long - Nuvu is a concept vehicle with unique 2+1 seating. It is aimed at urban dwellers who don't want to compromise on their personal freedom or their comfort, yet who appreciate that there is a need for a dramatic change in the way we move around our cities.
Nuvu is an electric vehicle, is agile, easy to drive and even easier to park. Nissan has already announced plans to introduce an all-electric car in Japan and the US in 2010 and to mass-market it globally in 2012. Nuvu is not that car, though it does share some of the technology that will feature in the planned production vehicle.
Nuvu incorporates a witty representation of Nissan's green credentials: across its all-glass roof are a dozen or so small solar panels. Shaped like leaves on a branch, the power they generate is fed to the battery using a 'tree trunk' within the car as a conduit. Nuvu also uses natural, organic and recycled materials within the cabin.
Nuvu is compact on the outside yet roomy on the inside. Built on a unique platform, it sits on a wheelbase of 1980 mm but is 1700 mm wide and 1550 mm tall to create a large and airy cabin.
These dimensions provide all the interior room needed for the vast majority of city journeys. Nuvu has two regular seats and a third occasional chair that can be folded down when required. But, unlike some two-seater city cars currently on the market, it is a thoroughly practical proposition with an integral luggage area providing sufficient space for a typical supermarket or shopping expedition.
"Nuvu is a concept car, for sure, but it is an entirely credible vehicle," says Francois Bancon, General Manager, Exploratory and Advanced Planning Department, Product Strategy and Product Planning Division, Nissan Motor Co., Ltd.
"It is light, clean and easy to drive. It is practical and a sensible size, yet it is also embodies an element of fun: the future doesn't look so bad, after all."
Pixo Continuing the theme of compact urban motoring, with outstanding green credentials - but this time for the more immediate future, Pixo is an accessible city car which offers low emissions and consumption at an extremely accessible price.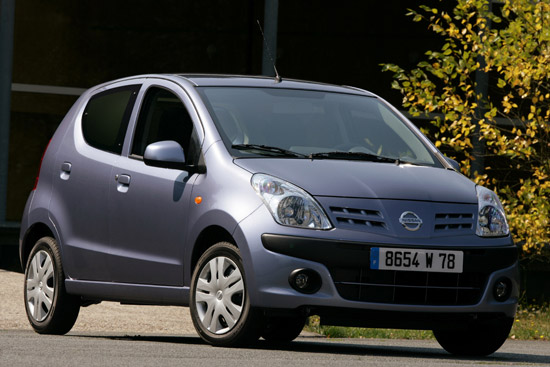 PIXO is a five-door, four-seater with a roomy interior and generous luggage space thanks to its efficient design and packaging. It has a lively highly efficient three cylinder 1.0-litre engine. Thanks to its brand new lightweight construction, with resulting benefits in performance, very low fuel consumption and emissions,PIXO will be among the best value eco-cars in the small city car category.
PIXO is 3565 mm long, 1470 mm tall and 1600 mm wide. It has a wheelbase of 2360 mm.
Built in collaboration with Suzuki Motor Corp. at state-of-the art facilities in Delhi, India, PIXO is a brand new four-seater competing in the fast growing A-segment. Unlike some of its immediate rivals, however, PIXO is far from a micro car. It has five doors to ease ingress and egress to and from the rear seats but remains sufficiently compact to be agile to be ideal for city driving.
Unusually in this class, PIXO is also available with a full four-speed automatic, reinforcing its suitability as a town car that's perfectly capable of longer journeys when needed.
Sales start from late spring.
Revised Note To maintain its place as one of the most innovative, space-efficient and popular accessible compact cars on the market, a wide range of changes and improvements have been made to Note.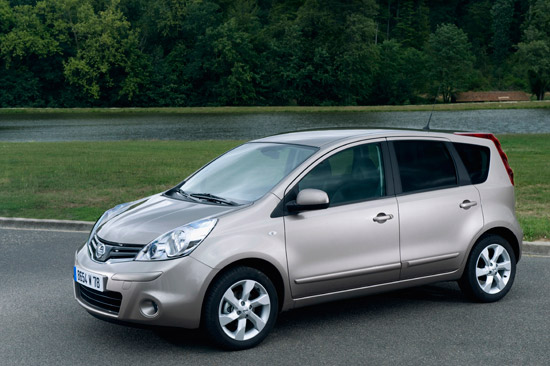 The most obvious changes can be found to the exterior design, where the front end benefits from a completely new design of grille, bumper and headlight, lending the Note a more premium and sleek appearance.
At the rear, the signature 'boomerang' lights are now darker, another discreet change which adds to the Note's premium feeling. Two new designs of alloy wheels - 15" and 16" - are available, while a new eye-catching pale green exterior color called Cider has been developed.
For the driver, a new combi-meter has been introduced, giving improved legibility and clarity and there is also a new central instrument panel, giving a cleaner appearance to the centre console.
Under the skin, improvements have been made to the Note's suspension to improve ride comfort, while improving responsiveness, knowing that customers consider driving enjoyment a key priority.
Following revisions to its engine and gearbox ratios, September will see the introduction of a 1.5-litre dCi powered Note which produces CO2 of just 119g/km. This follows the introduction of a diesel particulate filter on the 1.5-litre diesel engine earlier this year.
Additionally, from October, customers will benefit from reduced CO2 emissions from the Note's 1.4-litre petrol engine. Thanks to revised gear ratios, it will produce 139g/km.
Nissan Connect The updates to the Note also herald the introduction of Nissan Connect, Nissan's all-new combined satellite navigation, audio entertainment and communication system.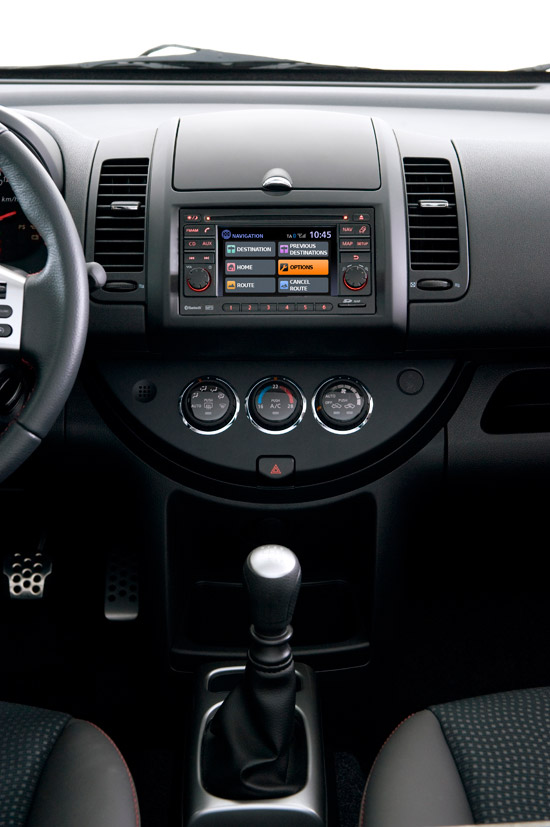 It was conceived to offer the level of convenience and user-friendliness normally found on portable navigation devices with the added convenience of full integration into the centre console.
With touch-screen technology, Nissan Connect combines a satellite navigation system (in nine languages), with an audio system capable of playing CDs (including MP3 and WMA CDs), as well as music via an auxiliary input, USB plug and Bluetooth streaming.
The system also provides Bluetooth phone connectivity for hands-free communication.
Nissan Connect will be available on Note from January 2009 and will be extended to other Nissan models during the course of 2009.
As well as these 'stars of the show', Nissan will also have its Crossover icon, the all-new Murano, on display and its baby brother the Qashqai+2 - the 'family Crossover' - which takes the Qashqai concept and offers extra interior space and convenience for those buyers who are uninspired by the traditional MPV options.
Carlos Tavares, Executive Vice President, Nissan Motor Co., Ltd., will be giving the press conference, which will be held at 10:30 a.m. on Thursday Oct. 2 (first press day).
Nissan's stand will be situated in Hall 1 (Alley B Booth 331).