Nissan GT-R GTT 1000 vs GT-R BoostLogic Godzilla, C63 AMG and CLS63 AMG Gorilla Racing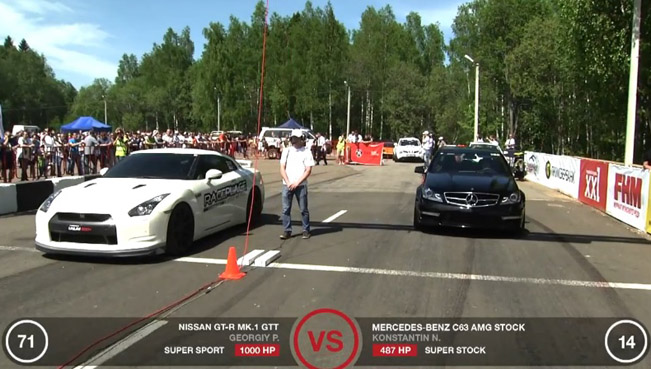 Nissan GTR Mk.1 GTT 1000 with 1000HP is going against a super powerful GT-R Mk.1 Boostlogic Godzilla with 1450HP, Mercedes-Benz C63 AMG with 487HP and CLS63 AMG Gorilla Racing with 820HP.
The first start is versus the GT-R Boostlogic Godzilla, which crossed the 1 mile mark in 23.034 seconds with 358 km/h terminal speed, while the GT-R GTT 1000 needed 24.545 seconds. The GT-R Boostlogic Godzilla set personal absolute record on ¼ mile – 9.446 seconds and personal absolute record on 1 mile. It is also the winner 2nd place in Super Sport Class 2013.
The GT-R GTT 1000 won the second start versus the C63 AMG, which has twice less horsepower. However, it managed to set absolute records on ¼ mile – 13.307 seconds with 178 km/h and on 1 mile – 32.305 seconds with 256 km/h.
The third start is also won by the GT-R GTT 1000, which finished in 24.509 seconds with 359 km/h, while the CLS 63 AMG Gorilla Racing needed 28.831 seconds with 302 km/h.
Enjoy!
Source: Dragtimesinfo