Nissan GT-R - The Hulk hits 350 km/h [HD video]
Nissan GT-R is one of the best drag racing vehicles currently available on the market. It's time attack qualities are also astonishing, but almost nothing can compete versus a tuned GT-R. Here, we have one of the fastest GT-Rs in the world – The Hulk. It is a creation of the United Kingdom's tuning company Severn Valley Motorsport.
The Hulk has completely rebuilt engine with more than 1250HP (932 kW) and still it is a street legal car. The displacement of the twin-turbocharged V6 growth to 4.2 liters. It also gets two enormous GTX GT35 Garrett turbochargers, Radec Full race front mounted Intercooler, 1600 ID Injectors and many more upgrades.
The gearbox is also different as well as the chassis, the electronics, the exterior boasts a complete wide-body kit, a set of new wheels and tires and last, but not least – restyled interior.
You can check all upgrades in the list below, but until then see how easy the Hulk hits over 350 km/h (218 mph). The data was recorded by GPS data acquisition system VBOX by Racelogic, which is completely precise.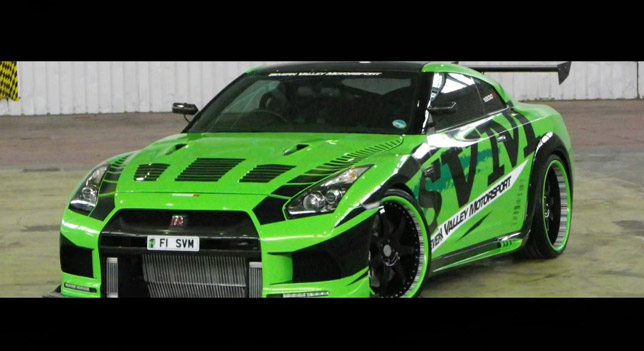 SVM HULK Spec Forged Blueprinted Unit 4.2L 92.4 Billet Greddy Crankshaft assembly & boost logic Crank damper/ rotating mass dynamically balanced 98mm Darton modular Integrated deck system (wet liners) SVM specification longer Carrillo connecting rods SVM Custom CP Comp Pistons & Higher Quality wrist pins & ARP bolts ARP L19 Head Extra high Strength Bolts Ferrera Valve Package with larger inlet and exhaust valves and titanium retainers Tomie 280 Profile cams with 11.3 lift CNC 5 angled valve pockets and CNC Balanced Porting Ported and Matched Inlet Manifolds GTC Billet winged engine sump HKS 45ml colder spark plugs Okada plasma Direct coil packs
Large Greddy Throttle housings (awaiting first delivery from Greddy) Greddy modified steel manifolds/modified with v bands couplings & SVM support system GTX GT35 Garrett Turbo Chargers with ball bearing core assemblies & V Band Fitment Tial 44mm external waste gates V Band Fitment Custom 80mm down pipes Zercoated 80mm hard pipe kit with SVM Green pipe couplers and murray hose clamps 80mm MAF pies with HPX MAF sensors HKS Blow off Valves GTC 102mm Titanium Exhaust system with 102mm GTC Y pipe fully resonated KN High flow air filter system with ram pipes & 90mm intakes
Radec Full race front mounted Intercooler incorporating Martons Light Weight Aerospace technology (only one of two ever made for an R35 GTR) Radtec high capacity engine and gearbox radiators housed into bumper Radtec alloy power steering reservoir Radtec water high pressure header tank and combi cam breathers with braided lines Radtec Race Spec radiator Radtec central block breather catch tank GTC water hoses and ECU Rad program 65 deg thermostat and housing
1600 ID Injectors High flow injectors Billet 12mm fuel rails with twin Dash 8 fuel lines Triple 1200bhp SVM Designed fuel pump system with swirl pot Fuel lab fuel regulator with braided lines
Mines carbon engine cover Carbon battery and brake servo cover Titek carbon cooling panel Hulk imperial pearlescent colour coded 1200bhp engine with specialist detailing Colour Coding of various parts
Albins 1st to 6th Gear set kit Uprated & High Strength GTC 14 plate clutch system Upgraded 4wd Gearlock system Uprated Diff's SVM gearbox cooler kit with additional fan and thermal control/motul pump and braided lines GTC Billet gearbox high capacity oil pan SVM synthetic 13lts duel clutch oil Shell helix racing oils
KW coil overs Variant 3 KW club sport suspension with alloy top mountings Eibach billet spacer pack with titanium wheel nuts Eibach front and rear "hollow" light weight anti roll bars GTC rose jointed top arms 400mm Top Secret Big Brake conversion front and rear (This is only used for Road and track use not Drag)
45psi digital boost gauge HKS AFR and knock meters with twin additional oxygen sensors COBB ap with GTC steering wheel maps race and road fuels COBB ap nis 06 upgrade with launch control Willhall Racing shift light All mapping by Ben linnley GTC (2 fuel maps: Road 99 ron Race fuel 120 ron)
Complete inside out re-spray in metallic imperial green pearlescent, eleven coat system & sponsors decals Top racing carbon racing front bumper (part painted) GTC Carbon bonnet (part painted) gold heat protection Top Secret carbon gas bonnet lifts Top Secret Front Towing eye for Track use. Aeromotion's S2 Active split wing WALD Rear carbon diffusers WALD side skirts (painted black and green)) WALD rear arch extensions (painted black) GTC carbon boot lid GTC Carbon Race mirrors mounted on pillars Carbon exhaust surrounds Carbon/Black wrapped roof MCR front and rear side markers L.E.D front and rear GTR badges L.E.D angle eye day light running lights LSD doors Privacy Glass
3 sets of wheels and tyres - show/road/track
22" i forged carbon coated show wheels/ green pin stripe / bar code graphics 22" Pirelli Tyre package. R 295/25/22 F 265/30/22
20" Volks Racing light weight wheels Toyo R888 315/30/20 tyres
18" Rota drag wheels with hossier non expanding drag tyres
Cobra front carbon ultra light race seats / technology foam /alcantara fabrics & Custom Logo's 6 point Roll Cage Custom built to SVM Spec with removable bars TAKATA 4 point race harnesses Full carbon interior package ( 12 piece kit) inc Carbon rear speaker shelf
Source: 12starstudios via Youtube