Nissan GT-R Track Pack - Less is More
If anything can put a smile on the face of a hardcore track day enthusiast, it's going to be a Nissan GT-R. More so even if that GT-R happens to be a Track Pack edition. That's the latest to come out from Nissan and it is design to shed precious seconds on the racing track. At the same time, it still has to be able to take you home trough the public roads – tricky. Most importantly, all is made by people from Nissan with the blessing of the car's creator – Kazutoshi Mizuno.
Let's start from the very foundation of the Track Pack – six-spoke RAYS alloy wheels that weigh 10 kg less than the ones found on a standard GT-R. Cooling ducts carved trough the front splitter reduce can reduce the operating temperature of the brake discs by as much as 100 degrees while on the run. Air is also channeled towards the back.
The suspension has been stiffened up which aids stability and rigidity. The Nissan engineers should know since the Track Pack GT-R has been developed on the premiss of the Nürbergring – the best place in the world to test out a track-focused vehicle. Now that ride home may not sound like much of a bargain but Nissan say that with the flick of a switch the dampers can start acting as if they had been filled with whipped cream.
Inside, one won't find the rear seats nor the front ones in fact (the standard ones that is). You only get two sports seat wrapped in something called "magic cloth" - blue-on-grey fabric and leather that prevents you from slipping out upon experiencing the notorious GT-R lateral forces. If, by any chance you fail to notice all of those deviations, an emblem sits on the dashboard just to let you know that you are in fact, in a Track-Pack.
On the other hand, despite looking like a hardcore, medieval torture chamber, it still has a Bose audio system and a rear-view camera. Nobody has dared to fiddle with the oily bits as well, most probably because they are perfect already - 550PS power output, and a 0-62 time of just 2.8 seconds is pretty much self explanatory.
The Track Pack is only available in the UK and Japan, and is priced at £10,000 ($16,187) more than the standard £74,450 ($120,512) GT-R.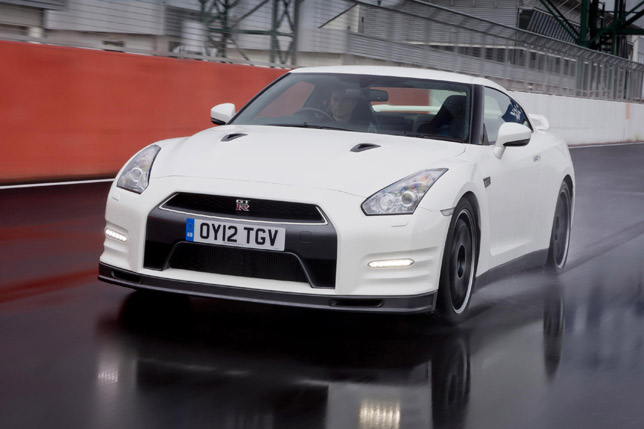 Source: Nissan