Nissan GT-R vs Michelle Jenneke - Australian Hurdler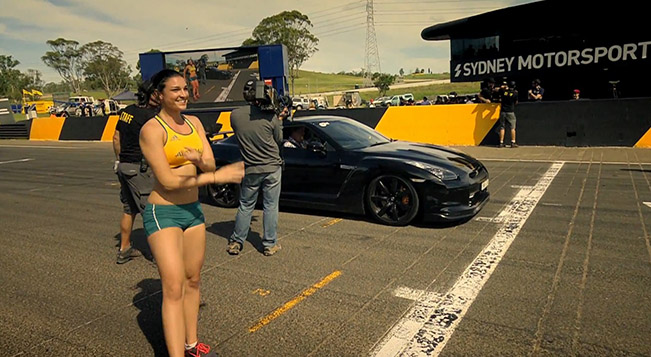 Top Gear has published an awesome video on Youtube in their typical humoristic style. It features a Nissan GT-R and the Australian hurdler - Michelle Jenneke. The question is simple – which is faster? A GT-R or a woman?
To make the race more interesting, the sprint is made to a 50 meter mark and back to the start. In that case, the GT-R should go in reverse gear, which is a bit harder to change as Jeremy explains.
The GT-R is the Mk.1 powered by a 3.8 liter twin-turbo V6 with 480HP (353 kW) at 6,400RPM and 588Nm (436 lb-ft) of torque at 3,200RPM. 0-100 km/h in 3.5 seconds and a top speed 310 km/h (194 mph). The curb weight is 1,750 kg (3858 lbs). It rolls enormous 20" alloy wheels fitted with 255/40 R20 and 285/35 R20 front/rear performance tires.
Nothing is mentioned about the acceleration of Michelle, but she obviously takes the start.
Jeremy Clarkson uses the launch control as a real "gentleman".
The race is really close. Enjoy!
Source: Top Gear