2013 Nissan GT-R Hits The Powder [VIDEO]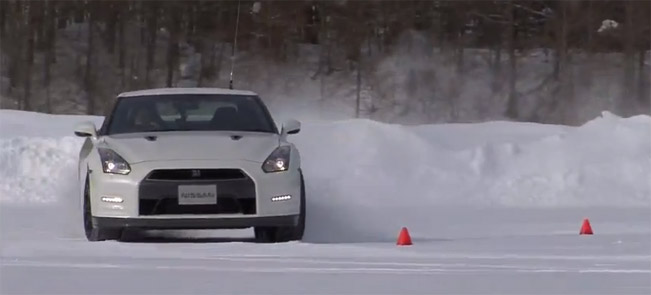 A twenty minute film has just been published by Nissan, showing the assets and qualities of their 2013 Nissan GT-R model. It reveals how the vehicle operates effortlessly in the toughest road conditions and which are the technologies inside of it which contribute towards it seamless performance.
This 2013 GT-R includes a wide range of enhanced technologies. More importantly, it can generate 550 horsepower (405 kW) from its 3.8-litre twin-turbocharged V6 engine. Here the lessons, that the brand have learned after this year's Nürburgring 24-Hour, are applied by the engineers thus effecting in enhanced response in both the mid- and upper-rpm rev ranges.
Other changes include increased body rigidity and modifications to the dampers, springs and front anti-roll bar. As a conclusion we can confirm that the GT-R is now more responsive, has better high-speed stability and a more refined ride.
Knowing that the vehicle is a true monster on pavement, the creators of this project wanted to test its qualities on snow? This happened at the Nissan testing ground in Hokkaido, Japan.
In the video below you can see how the 2013 Nissan GT-R is being tested in terms of acceleration, braking, hill start and skid pad performance in snowy northern Japan.
Video Source: YouTube
Source: Nissan