Nissan INVITATION Concept
The Invitation Concept is one of the latest projects of Nissan. The dynamic concept will be unveiled at this year's Geneva International Motor Show. It shows some of the innovation and excitement promised for the new model, which is due to be launched in the UK from 2013.
The INVITATION has interesting and energetic design with nice fresh style. The clean fluidity of the silhouette hints at its dynamic potential and showcases class-leading aerodynamics for enhanced efficiency. The interior combines practicality and modernity with impressive levels of quality and purposeful technology features.
Nissan is aiming for an ultra-low CO2 emission target of under 100g/km for the most frugal model and with all versions eligible to wear Nissan's Pure Drive badge.
At the same time, responsive agile handling will ensure that when it comes to driving dynamics, INVITATION will compete with the top performers in the segment.
But INVITATION is more than just a great looking car that's fun and frugal to drive. The concept packs some of the most advanced technology ever seen in the B-segment, all of which is designed to ensure the car is as safe as possible.
Among the features is Nissan's advanced Around View Monitor (AVM) safety technology – seen for the first time on a B-segment car – which makes reversing and parallel parking as stress-free as possible. In addition, INVITATION also incorporates the Nissan Safety Shield Technologies, which interacts with the driving environment keeping the driver aware of what is happening around the car.
INVITATION's combination of exterior, interior, advanced safety features and class-leading emissions, fuel economy and dynamic performance demonstrates Nissan's commitment to offering innovation and excitement to all car buyers, no matter what type of car they are looking to buy.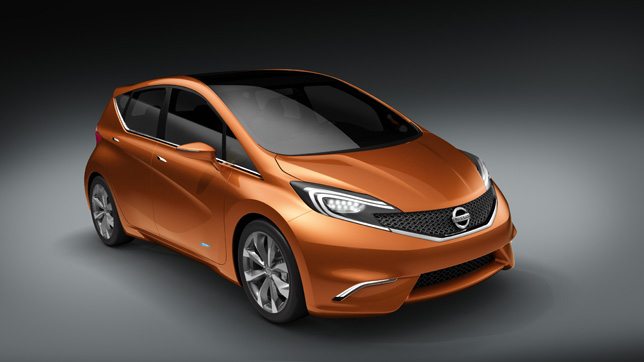 Source: Nissan