Nissan Juke-R
Nissan has created a real Frankenstein. The strange vehicle is a cross between Juke and GT-R. This is the first ever super crossover without analogue all over the world.
However, the vehicle is currently under development, the bold design of the Juke is clear to see. The aerodynamics package includes flared wheel arches, revised front and rear bumpers plus a unique split rear wing.
Juke-R is powered by a a 3.8-liter twin-turbo V6 engine with whopping 530PS. It is mated to a 6-speed gearbox with the front and rear ends joined by a modified GT-R 4WD driveline and prop shaft.
The monster stands on enormous 20" RAYS forged alloy rims fitted with high-performance low-profile tires.
The interior boasts new gauges, dials and 7-inch customisable LCD display from the GT-R. There are also twin race-seats with five-point harnesses sit inside a visible roll cage that gives FIA safety standards as well as enhanced rigidity to provide the ultimate performance.
"Nissan Juke is one of the most exciting cars on the market today. Its bold crossover design has captured the imagination of car buyers all over Europe; after just a year on sale we are celebrating sales of more than 100,000 units," said Paul Willcox, Senior Vice President, Sales and Marketing for Nissan in Europe.
"Juke lends itself perfectly to a sports derivative and Juke-R explores that territory. Equally at home on road and track, Juke-R showcases two of the most exciting cars in our range and highlights the technical innovation that drives Nissan. This car will more than live up to the dynamic driving experience we engineer into all our cars.", he finished.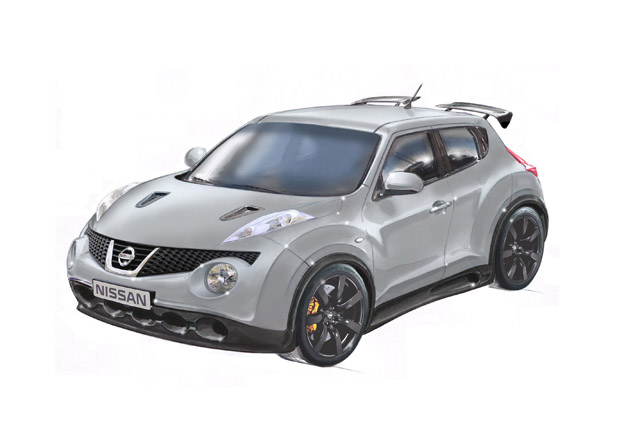 Source: Nissan