Nissan Vision Gran Turismo Concept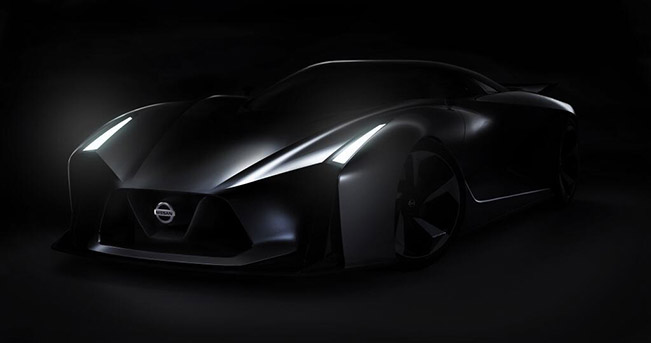 Nissan has published a new picture of Vision Gran Turismo Concept on Twitter. The Japan manufacturer didn't release any further information, but the interesting sports car resembles a GT-R from the future.
There is a strange V-motion front fascia and slender headlights. The huge air-intakes are going to deliver enough air for the expected extremely powerful engine, which will power the upcoming Nissan GT-R. It is rumored to have over 800HP (588 kW), which is considerably more than the current most powerful version – Nismo having 600HP.
The drivetrain of the new Nissan GT-R will consist of the well-known VR38DETT 3.8 liter twin-turbo V6 engine and an electric motor. Of course, a KERS-like system will be installed thanks to Williams F1 Team.
The Vision Gran Turismo Concept boasts a  double bubble roof flowing into the rear end. There are also aggressive side skirts and huge five-spoke alloy wheels probably measuring 20" or 21".
Nissan will unveil more information on June 16th as well as more pictures and details.
Stay tuned!
Source: Nissan