Off-Road Style: Aria Coachworks XPLORE Cadillac Escalade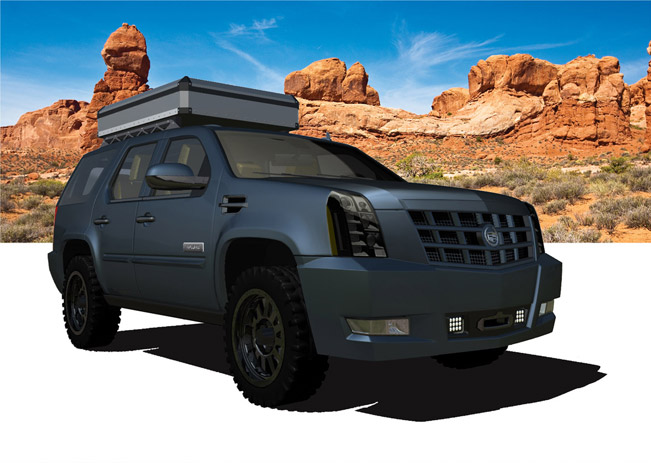 How would look a Cadillac Escalade in off-road style? The specialists at Aria Coachworks have obviously found the answer to this question, offering a premium upgrade to the emblematic vehicle, which carries the name Aria Coachworks XPLORE Cadillac Escalade.
In fact, this Cadillac model stands out as one of the prominent full-size American luxury vehicles thanks to its power, luxury, technology and style. However, the aim of the designers was to expand the territory range of the model, creating this XPLORE edition. Therefore, they envisioned it with serious off-road capabilities thanks to which there will be a new way to experience the outdoor lifestyle.
The upgrade is available in Hybrid and gasoline versions. To expand the aforementioned off-road capabilities, the XPLORE Adventure Series Cadillac Escalade is equipped with custom built suspension packages, massive BF Goodrich all-terrain tires, special finish XPLORE/Method aluminum wheels, Warn winch, Stainless steel polished exhaust system and fender-height aluminum snorkel.
In addition, the exterior of the vehicle is enhanced via the new special matte clear paint, black chrome finished trim, XPLORE power running boards, XPLORE roof rack system, powerful LED lighting systems, XPLORE metal and inlaid wood badging.
Of course, the interior wasn't left aside. The designers at Aria Coachworks have supplied this Cadillac with special XPLORE leather and suede seating, XPLORE all-weather floor and cargo mats, XPLORE/Filson luggage and Woolrich car blankets.
Moreover, accessories such as XPLORE power roof-top tent, XPLORE aluminum gear and storage modules, bike racks, awnings, XPLORE Edition Camp trailer, matching XPLORE custom matching BMW GS Adventure motorcycle, XPLORE custom matching Airstream Trailer, Old Town classic wooden canoes, Coleman Camping gear, XPLORE clothing add to the premium features of the vehicle.
All in all, Aria Coachworks XPLORE Cadillac Escalade is an accessorized, meticulously designed and integrated impressive machine, which also promises to deliver unforgettable experience.
Source: Aria Coachworks