OK-Chiptuning Gives Two Faces To Skoda Superb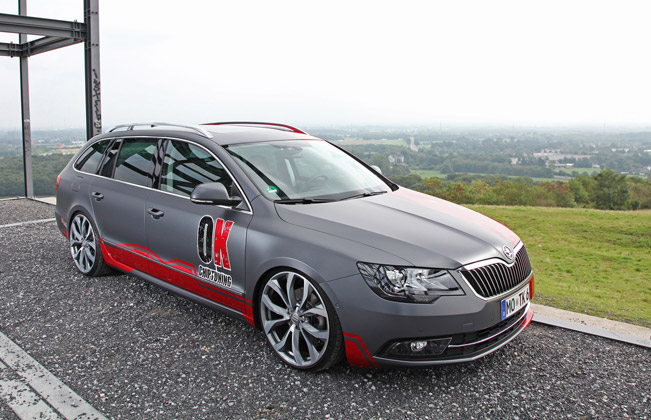 The professionals at OK-Chiptuning have released a unique project, and to be more precise – they have given the Skoda Superb new and more extravagant visual characteristics as well modification of the engine.
After the transformation, the 2.0 liters TDI powerplant is more fuel efficient but at the same time powerful. In fact, it is now capable of generating 210 horsepower (155 kW) and 435 Nm (321 lb-ft) torque in comparison to its serial 170 hp (125 kW) with 350 Nm (258 lb-ft) of torque.
Furthermore, there was also done a suspension optimization via H&R coilovers and was added a H&R stabilizer kit. Ttuners have equipped this Skoda with Audi A6 (4G) steel rims in dimensions of 8,5x20 inch, which are coupled with Z-Nero Pirelli tyres in the format of 235/35ZR20.
But what immediately grabs the attention at first glance is the unusual exterior that this car sports. It has two faces: the first done by foil wrapping delivered by Cam Shaft CAM SHAFT, which is at the right half and is in muted gray color; and the second - the left car half, which is red.
However, the separation between the two colors runs not exactly in the middle, but it is shifted about 20 cm to the left. At last, what rounds off the visual characteristics of the car are the large red stickers on its right side.
Source: Miranda Media