Original 1963 Batmobile on Sale at Heritage Auctions [VIDEO]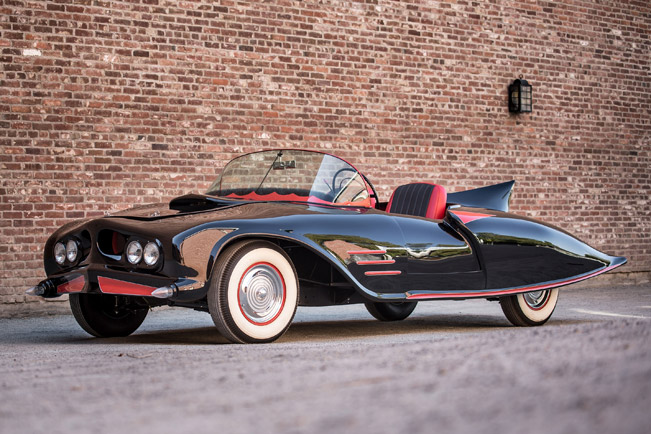 The officially licensed Batmobile was born in 1963 and was developed by Forrest Robinson. The story begins with a design sketch in 1960. After finishing it, Robinson and Len Perham, begun building the car in the Robinson family barn. Then, the completion of the car continued in 1963, which is exactly two years before the George Barris customization of the TV Batmobile was started.
This basically means that the "'63 Batmobile" is the earliest known car in existence that was sanctioned by a DC Comics licensee.Robinson's earlier car is instantly recognizable as "more authentic" by comic book fans. It features, seen in DC's Batman Comics from the 1940s and '50s, the prominent front-end bat-nose and rear-end single fin.
The car was custom-built from the ground up. As a basis served the 1956 Oldsmobile 88 frame and the famous 324 Rocket engine. The body of the Oldsmobile was replaced with custom-designed body, measuring 17 feet by 83 inches. It featured Batmobile's iconic dorsal fin, bat-nose front end and pocket sliding doors.After the built up of the car finished in 1963, Robinson painted it in space-age silver.
The car became a stunning piece of art-on-wheels. Robinson initially used the car for regular driving, but when Batmania started in earnest, the car caused such a sensation that ALL STAR Dairies and its New Hampshire affiliate, Green Acres Ice Cream, leased it for a promotional campaign.For this purpose, it was repainted in official Batman colors, and of course - badged with official Batman labels.
Then it toured the Eastern United States as "Batman's Batmobile". It is kind of irony that Forrest, who needed cash to start a fabricating business, sold the car for only $200 USD.What was the destiny of the car? It was abandoned in a New Hampshire field and, for almost fifty years, remained a long-forgotten piece of American Pop Culture. Until 2008, when the car was discovered by Bobby Smith.
He sold it to a rare car dealer in Chicago, who re-sold it to auto historian George Albright.In 2013, 1963 Batmobile was purchased by Toy Car Exchange and transported to Borbon Fabrications to be restored to pristine condition. The vehicle retained the original frame, parts, and engine, and was given a second life.
Now the car is to be found at Heritage Auctions and is currently on sale for at least $90,000 USD.
Video Source: YouTube