Performance Explosion: O.CT Volkswagen Golf V GTI Edition 30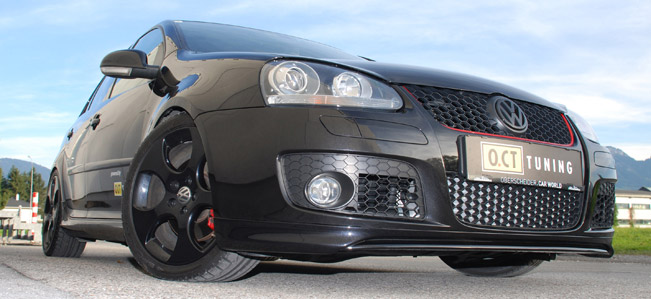 O.CT Volkswagen Golf V GTI Edition 30 is a machine which after the tuning has become a performance explosion. The reason for this is the classic engine tuning that the professionals from O.CT Tuning performed on the Volkswagen.
After the upgrade the Golf V now generates up to 365 hp (268 kW). The maximum torque after the modification was increased up to 500 Nm (368 lb-ft), which only means that the Golf stands out among rivals effortlessly.
Furthermore, the vehicle's electronics were also reprogrammed. There a special adaptation of the Level 3 software is effected. Next, an in-house intercooler was installed and the air induction system was changed.
Here, the intake system itself comes from the motorsport. Additionally, the special spark plugs and a modified injection system, as well as the acoustically stunning 76-mm racing exhaust system from turbocharger without cat and without central pot, fulfill their duty produce great sound.
Even more, the Golf's aerodynamics were enhanced with O.CT coilover suspension V3, while the carbon made engine and battery covering deliver visual relaxation under the hood. And to sum up, the O.CT Volkswagen Golf V GTI Edition 30 offers true driving experience with pure forward thrust, accompanied by a terrific sound.
Source: O.CT Tuning