Petty's Garage Ford Mustang to Debut at SEMA Show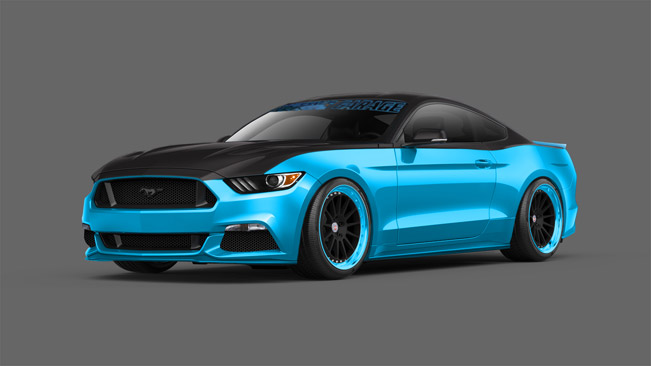 In two weeks Ford is bringing performance oriented Mustangs to the halls of the Specialty Equipment Market Association (SEMA) show. Among the modified Mustangs will be the Galpin Auto Sports version, as mentioned earlier today, as well as versions by other tuners such as Roush, Petty's Garage, MRT and many more. The performance specialists will not only show how they have boosted the 2.3-liter EcoBoost four-cylinder engine sleeping under the hood of the pony car, but also will demonstrate newly developed aftermarket parts which enhance its track handling.
Petty's Garage will also be among the featured customizer at the show. It will be bringing a Mustang wearing Richard Petty's famous blue paint and a discrete No. 43. The secret about this number is that this is Petty's car number in his NASCAR days. In addition, this car will be equipped with Roush's supercharged V8 engine.
Ford has also stated that this particular model will be auctioned by Barrett-Jackson and the proceeds will go to the Victory Junction. The latter is dedicated to helping chronically ill children attend summer camp.
2015 Ford Mustang features new independent rear suspension and multilink front suspension. They have been both improved by Roush and Steeda. SEMA will also see plenty of 5.0-liter V8s roaring around. The spotlight however will be on the new 2.3-liter EcoBoost four-cylinder engine.
The unit not only provides an entirely new platform for experienced turbocharging specialists, but also delivers stunning 310 horsepower (228 kW) and 434 Nm (320 lb.-ft.).  Another secret revealed by Ford is that there are several tuners which will be on hand with high-powered versions of the new turbo four-cylinder.
Source: Ford