Peugeot 208: Thiner and Less Thirstier
The new Peugeot 208 is set to hit the UK markets somewhere in June this year and it will be very green. The range of engines included have the sole purpose of saving the planet. Weight and dimensions have shrunken and "up to 25%" of the polymers used are from recycled products. A variety of 208 choices will meet the needs of picky – the vehicle comes as a 3 or 5-door hatchback, petrol or diesel with automatic transmissions, 5 or 6 speed manuals, stop and start systems for diesels and for an extra 500 quid, one gets a touch screen navigation.
First thing we notice are the looks – it's a recognizable figure that has taken on modernity and sharpness. The boomerang-style tail lights are bulkier and more amorphous, the grille incorporates a funkier pattern while curves on the side dauntingly suggest - "I am French and don't let them tell you otherwise"
Top of the range 1.6l THP petrol engine will be available this summer, developing 156 bhp and 240 Nm of torque while returning perfectly respectable 48.7 mpg. For ultimate economy though, the new 3-cylinder 1.0 or 1.2 VTi petrol bees are up for the job with 65.7 and 62.8 mpg respectively. Yet, the 1.4l e-HDI diesel trumps all the others with its economy of 83.1 mpg and 87g/km of carbon dioxide emissions. These minuscule figures are courtesy to Peugeot's clever micro-hybrid Stop & Start System that comes with almost all diesels and the Electronic Gearbox Control (EGC).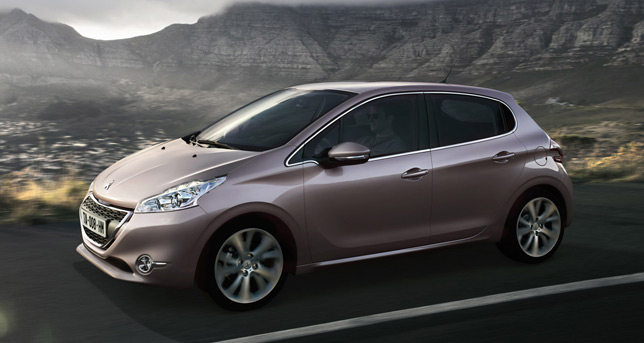 Weight is down by around 110kg compared to the previous 207 and it is also a bit shorter with 7cm. Obviously the 208 has gone on a diet so that its occupants can let loose a bit as there is more back seat legroom and a significantly larger boot space - "optimized architecture", say Peugeot. Moving on to the driver's seat we are overjoyed with pure simplicity - we have a strangely elevated dashboard which houses a rev. counter, a speedometer, a temperature gauge and a fuel gage – classic Peugeot. The central console is tidy enough and the small steering wheel looks like a steering wheel and not like a Playstation controller. It is really as simple as today's standards allow it to be, which is good for there's nothing to distract the driver from the act of driving a perfect, nimble and sleek super-mini. The only traces of sophistication can be found on the 7-inch touch screen which controls all the USB/Bluetooth, multimedia bits and pieces.
All there is left to verify now is the handling performance which has the tough job to honour the 208's predecessors. This Spring someone in mainland Europe will be lucky enough to test it out while in the UK, people will have to wait until June.
Source: Peugeot