2012 Peugeot Partner Tepee
2012 Peugeot Partner Tepee now has new style and is equipped with the latest technology. It affirms its personality and high level of quality by presenting a refreshed style: new front face, new appearance, new mirrors, new Lion badge. The LED day running lamps are adding to the modern look of it.
The foglamps with static direction lighting function (Cornering), as well as the numerous chromed inserts and the new rear lamps with black interior mask are also featured in the new look of the vehicle. The interior is modified as well. It now includes new technological features but also by also offers a lot of passenger space, modularity, handling and an Outdoor version.
The Partner Tepee offers up to 7 individual seats, which tilt, fold and can be removed. There is also space for numerous storage compartments. There is also included a wide range of comfort equipment, such as: dual zone automatic air conditioning, rear parking assistance, automatic wiping, automatic switching on of the lights, Bluetooth hands-free kit, PC Nav audio-navigation. Furthermore, there is also included the unique Zenith roof.
However, it comes as an option, and offers four large windows in the roof and nearly 80 litres of additional storage compartments due to a transverse overhead storage unit, central storage compartments and a rear box accessible from the passenger compartment or the boot.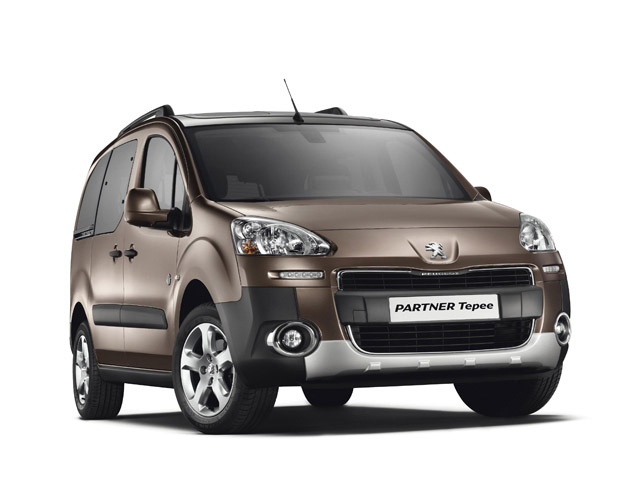 To go further into details, the vehicle features seven optional Euro 5 engines (including 5 diesel engines): 1.6 l VTi 72 kW (98 bhp) 5-speed manual – 164 g/km CO2; 1.6 l VTi 88 kW (120 bhp) 5-speed manual – 169 g/km CO2; 1.6 l HDi 55 kW (75 bhp) 5-speed manual – 133 g/km CO2; 1.6 l HDi 68 kW (92 bhp) 5-speed manual – 135 g/km CO2; 1.6 l e-HDi 68 kW (92 bhp) 5-speed manual – 129 g/km CO2; 1.6 l e-HDi 68 kW (92 bhp) 6-speed piloted manual – 125 g/km CO2 – best-in-class, i.e. 4.8 l/100 km (58.8mpg); 1.6 l HDi 84 kW (115 bhp) 5-speed manual – 139 g/km CO2.
Moreover, the suspension is pseudo-McPherson at the front and deformable crossmember at the rear. It has full freedom of expression due to the rigid, high-performance structure of the Partner Tepee. In addition, the structure has also 3 force channels at the front, completed by the possibility of having notably 6 airbags inside the vehicle or ESP. The large brakes, controlled by the ABS as standard, consist of 283 x 26 mm ventilated discs at the front and 268 x 12 mm non-ventilated discs at the rear.
There is also included the Grip Control technology, which improves traction at high levels. Due to its sophisticated management of wheel grip, its 4 driving modes (Sand, Snow, Mud, Normal) which can be selected using a dial on the dashboard control panel and the Mud & Snow tyres which accompany this option, the Partner Tepee increases its freedom of use. How about the dynamics of the new model?
The suspension is raised by 10 mm to increase the ground clearance and the tyres are of a special size: 205/65 R15. Eventually, a protective panel under the engine protects the underframe against minor impacts and debris damage.
The new 2012 Peugeot Partner Tepee will make its world debut in less than a month at the Geneva Motor Show and will go on sale in Spring 2012.
Source: Peugeot