Peugeot Quartz Concept - Ultra-Athletic Crossover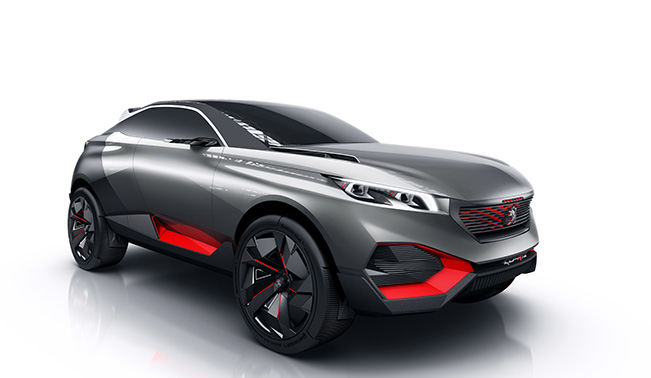 Peugeot has presented the interesting Quartz Hybrid Crossover Concept. The vehicle is expected to make its official public debut at the Paris Motor Show, next month. Peugeot Quartz Concept is designed to present the future imagination of the French manufacturer for the SUV models.
Quartz boasts a set of enormous 23" alloy wheels as well as a huge body – 4.5 meters in length and 2.06 meters in width. It features composite structure and bonded body panels to save weight. Since the model doesn't have B-pillars, it will be fitted with scissor doors, which will boost the concept's presence.
The engine is a 1.6 liter THP turbocharged petrol with 270HP (198 kW) and 330Nm (243 lb-ft) powering the rear wheels, while the front are powered by an electric motor – 115HP (85 kW) charged by a battery pack positioned into the floor of the vehicle. At the back there's another 115HP (85 kW)electric motor for propulsion and battery charging.
The Quartz offers an all-electric range of 50 km (31 miles). There is also a Road mode as well as Race mode unleashing the maximum power of the vehicle.
The interior of the vehicle boasts i-Cockpit design with a small steering wheel with built-in controls for shifting gears as well as changing driving modes. There are four bucket seats for occupants and retractable harness.
The Peugeot Quartz concept will be exhibited from 4th October at the 2014 Paris Motor Show.
Source: Peugeot